Terrell on the Law of Patents: 19th ed with 3rd Supplement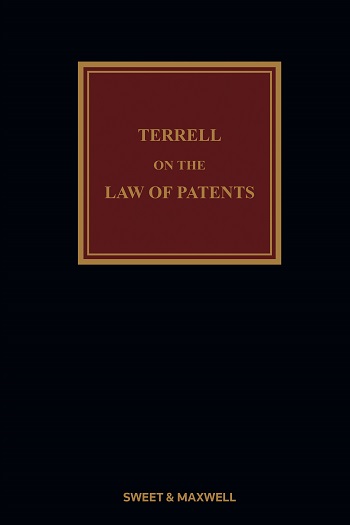 ISBN13: 9780414089372
Published: March 2023
Publisher: Sweet & Maxwell Ltd
Country of Publication: UK
Format: Hardback & Supplement
Special Offer: £628.00
(Usual price £628.00)
Terrell on the Law of Patents has been the authority on UK patent law for over 135 years. It provides the most detailed and authoritative commentary on law, practice, and procedure – comprehensively covering every stage from application to infringement.
It includes advice on the fundamental aspects of patent law as well as more specialist issues such as FRAND, SPCs and licenses. The text is updated by a team of intellectual property specialists from Three New Square headed by Sir Colin Birss to provide you with dependable insight and expert analysis.
Regularly cited in court, Terrell continues to set the standard by which others are compared and is an essential reference to help keep you up to date with the very latest patent law developments.
Rigorous analysis of the most significant case law from all levels of the UK Courts, the European Patent Office, the UK Patent Office, and the Appeals Boards.
Detailed explanations of the application process for UK national patents and European patents.
Addresses the issue of entitlement and answers the key questions: who may apply for a patent and who may be granted a patent?
Applying for a supplementary protection certificate, the conditions for granting SPCs, and their effects.
FRAND licensing, undertakings, and the nature and scope of obligations.
Outlines the grounds for revocation as defined by the Patents Act 1977.
Different types of invalidity including lack of novelty, obviousness, and insufficiency.
Clarifies the principles of patent infringement to ascertain whether or not there has been an infringement, as well as outlining statutory exceptions and other defences.
Discusses actions for infringement and looks at the parties involved, claims forms, trial procedure, and remedies.
Covers the procedural requirements of the Unified Patent Court and case management process in the Intellectual Property Enterprise Court.
Analyses second medical use claims, human genome sciences, and central amendments to patents.
Explains compulsory licenses and licenses of right.
Includes relevant statutory material as well as sample precedents and pleadings.
The 19th edition, published in 2020, is now updated by the 3rd cumulative supplement that covers all the latest developments in UK patent law with commentary on recent case decisions and legislative changes.