Sentencing Principles, Procedure and Practice 2022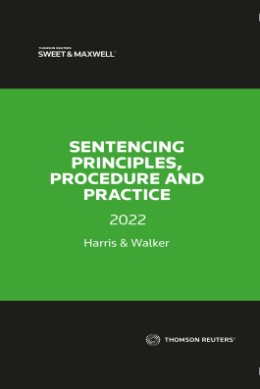 ISBN13: 9780414091832
Published: October 2021
Publisher: Sweet & Maxwell Ltd
Country of Publication: UK
Format: Hardback
Price: £99.00

The second edition of this new annual title is an essential introduction and companion to the new Sentencing Code. The book is split into two parts: Part A contains everything you need to know about sentencing procedure, courts' sentencing powers and the sentencing principles, including the Sentencing Code; Part B provides guidance on determining the appropriate sentence for almost all criminal offences.
Cited in the Court of Appeal (Criminal Division), this work guides practitioners though the various stages of a sentencing hearing and clearly indicates the considerations applicable to a sentencing decision. The title includes extensive expert commentary and summaries of all the relevant case law. For use in sentencing hearings and appeals, in court and for research.
Written and structured to follow the Sentencing Code indicating the extent to which previous case law remains relevant and applicable
Includes explanatory commentary from the authors who were closely involved in drafting the Code at the Law Commission
Important case summaries with expert commentary
Analysis of sentencing guidelines, identifying particular issues and providing commentary
Includes all relevant legislation such as Magistrates' Courts Act 1980, Proceeds of Crime Act 2002 and Criminal Justice Act 2003
All in just one volume and designed for ease of reference
Updated annually
Coverage extends to both the Crown and the Magistrates' Courts
New coverage in this edition includes:
Major changes to sentencing legislation including amendments effected by the UK's withdrawal from the EU and the Counter-Terrorism and Sentencing Act 2021. Revised sections and commentary on firearms, assault, attempted murder and drugs, to reflect the new
Sentencing Council guidelines in these areas.
The new edition also incorporates new cases providing guidance from the CA (Crim Div) and the Divisional Court on sentencing law and procedure, and accompanying commentary and analysis, including:
R. v Gould (extent of power in s.66 of the Courts Act 2003)
AG's References (McWilliams, McCann, Shaikh) (new release provisions and their effect on the determination of a minimum term of a discretionary life sentence
R. v Plaku (guilty plea guideline), R. v Reed (sexual communication with a child and the approach to determination of guideline category)
R. v Bailey (totality)
R. v Lea and R. v RJ (SHPOs)
R. v Mizan (deferred sentences)
R. v Cleland (mental health disposals)
R. v Kakakhan (breach of community order)