De Smith's Judicial Review 9th ed (Book & eBook Pack)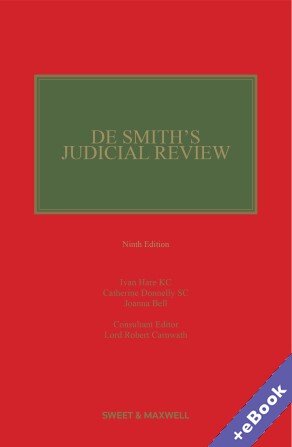 ISBN13: 9780414111752
Published: June 2023
Publisher: Sweet & Maxwell Ltd
Country of Publication: UK
Format: Book & eBook Pack (ProView)
Special Offer: £389.00
(Usual price £389.00)
The sale of some eBooks are restricted to certain countries. To alert you to such restrictions, please select the country of the billing address of your credit or debit card you wish to use for payment.
Sale allowed in
Anguilla
,
Antigua and Barbuda
,
Aruba
,
Austria
,
Bahamas
,
Barbados
,
Belgium
,
Bermuda
,
Bulgaria
,
Cayman Islands
,
Croatia
,
Cuba
,
Cyprus
,
Czech Republic
,
Denmark
,
Dominica
,
Dominican Republic
,
Finland
,
France
,
Germany
,
Gibraltar
,
Greece
,
Grenada
,
Guadeloupe
,
Guernsey
,
Guyana
,
Haiti
,
Hungary
,
Ireland
,
Italy
,
Jamaica
,
Jersey
,
Latvia
,
Liechtenstein
,
Lithuania
,
Luxembourg
,
Malta
,
Martinique
,
Montserrat
,
Netherlands
,
Poland
,
Portugal
,
Puerto Rico
,
Romania
,
Saint Kitts and Nevis
,
Saint Lucia
,
Saint Vincent and the Grenadines
,
Slovakia
,
Slovenia
,
Spain
,
Sweden
,
Trinidad and Tobago
,
Turks and Caicos Islands
,
United Kingdom
,
Virgin Islands (British)
,
Virgin Islands (U.S.)
Sorry, due to territorial restrictions applied by the publisher we are unable to supply this eBook to United States.
De Smith's Judicial Review is the leading work on the history, principles and practice of judicial review in England and Wales.
Key features:
Covers the history, theoretical foundations and principles of judicial review.
Deals comprehensively with all grounds of challenge, including illegality, procedural impropriety, substantive review, Convention rights and grounds based on retained EU law.
Clarifies complex changes in substantive review, as a result of recent Supreme Court cases including the use of Parliamentary materials in assessing proportionality (SC), challenges based on policies (A), significant cases on devolution concerning referenda and the Ireland/Northern Ireland Protocol; and the impact of the Windsor Framework on Northern Ireland.
Sets out the context of judicial review and its scope, considering at the outset a number of issues which guide De Smith's approach.
Considers other possible avenues of redress for aggrieved citizens.
Examines those who may initiate a claim for judicial review (claimants); who have a right to be a party (interested parties) and those who may seek permission from the court to make submissions as interveners
Includes full coverage of procedures and remedies, including new suspended quashing orders and the increased emphasis on procedural rigour before the Administrative Court.
Considers reform proposals including the Bill of Rights Bill.
Includes comparative material form other leading common law jurisdictions
The Ninth edition includes comprehensive coverage of the law and practice of judicial review with extensive comparative material from leading common law jurisdictions. This edition has been thoroughly re-written and updated to take account of recent doctrinal developments and theoretical controversies. It includes recent changes to the law on remedies and limiting judicial review by ouster clauses. It examines retained EU law, separate agreement law, and future relationship law, the Ireland/Northern Ireland Protocol and the Windsor Framework. It also covers proposals, such as the Bill of Rights Bill.