Sealy & Milman: Annotated Guide to the Insolvency Legislation 2023 Volumes 1 & 2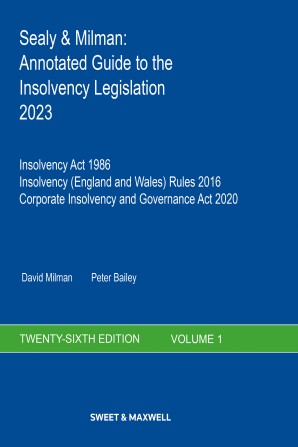 ISBN13: 9780414114050
Published: May 2023
Publisher: Sweet & Maxwell Ltd
Country of Publication: UK
Format: Paperback, 2 Volumes
Price: £510.00

Sealy and Milman: Annotated Guide to the Insolvency Legislation is viewed as the definitive guide to insolvency law. Now in its 26th edition, this annual guide offers practitioners annotated commentary and clarification on the legal and practical implications of the latest insolvency legislation, whether in Acts of Parliament, Statutory Instruments, or relevant Practice Directions, and on the relevant case law.
The new 26th edition will publish in May and will be followed by an updating supplement in the last quarter of 2023. The updating supplement will be sent to purchasers of the 26th edition Volume 1 & 2 set at no additional charge
Key Features
Provides clear, annotated commentary and clarification on the legal and practical implications of current insolvency legislation
Incorporates sources of both corporate and personal insolvency law
Reproduces additional statutes and regulations so that all the information needed is in one reliable source
Volume 1 contains in-depth explanations on the main core legislation, including the Insolvency Act 1986 and the Insolvency (England and Wales) Rules 2016 as amended
Volume 2 features the Company Directors Disqualification Act 1986, key parts of the Companies Act 2006 (including the new Part 26A) and the post Brexit version of the EU Regulation on Insolvency Proceedings 2015/848 and the Cross-Border Insolvency Regulations 2006. In sum this volume includes the text, in whole or part, of 28 Acts, over 58 Statutory Instruments and a number of practice directions
Key Changes to the 26th edition:
Main legislative changes: in addition to all key changes since the last edition, the 26th edition now includes:
Commercial Rent (Coronavirus) Act 2022 reproduced in full
Insolvency Proceedings (Fees) Order 2016 (SI 2018/692) amended (winding-up and bankruptcy petitions deposits increased)
Civil Procedure Rules 1998 (SI 1998/3132) amended
All the relevant new Practice Directions are reproduced
Key Cases Considered
BTI 2014 LLC v Sequana SA [2022] UKSC 25 (directors' duty to creditors when insolvency imminent clarified by Supreme Court).
Re De Weyer Ltd (in liq.); Kelmanson v Gallagher [2022] EWHC 395 (Ch) (directors liable for preference to themselves may also be liable for a breach of duty and misfeasance).
Rushbrooke UK Ltd v 4 Designs Concept Ltd [2022] EWHC 1110 (Ch); [2022] EWHC 1416 (Ch); [2022] EWHC 1687 (Ch) (application to restrain presentation of winding-up petition struck out; costs liability).
Citibank, NA v Speciality Steel UK Ltd [2022] EWHC 1359 (Ch), Re a Company [2022] EWHC 1690 (Ch) and Doran v County Rentals Ltd (t/a Hunters) [2022] EWCA Civ 1376 (coronavirus financial effect on winding-up petition).
Re Edengate Homes (Butley Hall) Ltd (in liq.); Lock v Stanley [2022] EWCA Civ 626 (application by creditor against decision of liquidator must be by a person aggrieved).
Re P G D Ltd; Manolete Partners plc v Hope [2022] EWHC 1801 (Ch) (no cap imposed on an assigned claim).
Re Caversham Finance Ltd [2022] EWHC 789 (Ch) and Re E Realisations 2020 Ltd [2022] EWHC 1575 (Ch) (failure to give the reasons for extension of administrators' appointment in the notice to creditors was a curable procedural defect).
Re VTB Capital plc [2022] EWHC 1106 (Ch), Re Sberbank CIB (UK) Ltd [2022] EWHC 1059 (Ch) and Re CargoLogic Air Ltd [2022] EWHC 3316 (Ch) (companies subject to Russian sanctions could be ordered into administration).
Re Discovery Yachts Ltd; PSV 1982 Ltd v Langdon [2022] EWCA Civ 1319 (directors' liability for company's "relevant debt" on re-use of company name).
Re MSOLD1 Ltd [2022] EWHC 3015 (Ch) (court ordered company to be wound up after the suspended winding-up petition was resurrected when administrators' appointment ceased).
Re CFO Lending Ltd; Secretary of State for Business, Energy and Industrial Strategy v Keeble [2022] EWHC 2053 (Ch) (director disqualification).
Tradition Financial Services Ltd v Bilta (UK) Ltd [2023] EWCA Civ 112 (nature, width and scope of fraudulent trading liability clarified).
Barings UK Ltd v Galapagos SA [2022] EWHC 1633 (Ch) (application of Retained EU Regulation on Insolvency Proceedings).
Re Houst Ltd [2022] EWHC 1765 (Ch), [2022] EWHC 1941 (Ch) and NGI Systems and Solutions Ltd v Good Box Co Labs Ltd [2023] EWHC 274 (Ch) (restructuring plan jurisprudence continues).
Khan v Singh-Sall [2022] EWHC 1913 (Ch) (annulment/ limitation issues).
Magan v Wilton Management [2021] EWHC 3393 (Ch) (annulment application – whether bankrupt had assets).
Addison v London European Securities [2022] EWHC 1077 (Ch) (appeals).
Dusoruth v Orca Finance [2022] EWHC 2346 (Ch) (liquidated debts).
Mehers v Khilji [2023] EWHC 298 (Ch) (use it, or lose it).
Re Ferster [2022] EWHC 1060 (Ch) (suspending discharge).
Allen v Mittal [2022] EWHC 762 (Ch (suspending discharge).
The courts have also reflected upon the operation of the debt respite breathing space regime under the 2020 Regulations (Brake v Guy [2022] EWHC 2797 (Ch), [2022] EWHC 2907 (Ch); Kaye v Lees [2022] EWHC 1151 (QB), [2022] EWHC 3326 (KB), [2022] EWHC 152 (KB)).