Listed Buildings and Other Heritage Assets 6th ed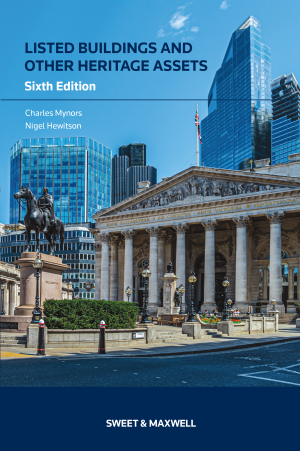 ISBN13: 9780414117143
To be Published: December 2023
Publisher: Sweet & Maxwell Ltd
Country of Publication: UK
Format: Hardback
Price: £235.00

Listed Buildings and Other Heritage Assets is the standard reference work on the law concerning the protection of listed buildings and other heritage assets in the UK. It explains how the built heritage is protected, how planning controls apply, powers to bring about repairs, acquisition of historic buildings by public authorities, and the consequences of carrying out works without consent.
New coverage in this Edition includes:
The Levelling-up and Regeneration Act 2023, which extends the duties to consider preserving heritage assets to encompass world heritage sites, scheduled monuments, and registered gardens
The Historic Environment (Wales) Act 2023, which replaces the Ancient Monuments Act 1979 and the Listed Buildings Act 1990
The Ecclesiastical Jurisdiction and Care of Churches Measure 2018, which replaces the 1991 Measure, and amendments to the Faculty Jurisdiction Rules 2015
Around 40 new court cases, including the decision of the Supreme Court in Dill as to what can be listed; and guidance by the Court of Appeal as to the extent of curtilage, the extent of the setting of a listed building, and the importance of professionals being aware of the need for permission and consent
The text relates primarily to England and Wales, but the main features of law and policy in Scotland and Northern Ireland, and the principal differences from those in England, are highlighted in a new final Part.
All these developments have been incorporated in the new edition of this comprehensive and practical book, which continues to be an essential reference source for planning solicitors and barristers, local authority planning and legal departments, conservation organisations, surveyors, architects and all others practising in this area.