Historiography, Empire and the Rule of Law: Imagined Constitutions, Remembered Legalities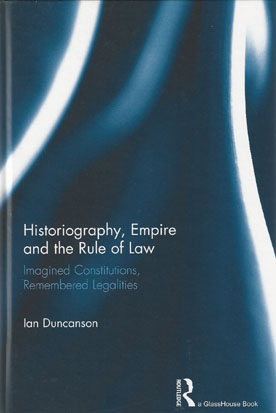 ISBN13: 9780415720175
Published: September 2013
Publisher: Routledge
Country of Publication: UK
Format: Paperback (Hardback in 2011)
Price: £31.99

Historiography, Empire and the Rule of Law considers the intersection of these terms in the historical development of what has come to be known as the 'rule of law'. The separation of governmental powers, checks and balances, and judicial independence signified something entirely new in the way in which politics was imagined and practiced.
This 'rule of law' cannot, as it often is, be traced to the justification and practice of government as originating in a social contract among the governed; but rather, by analogy with a popular conveyancing innovation of the era, to the trust -- a device by which the power of ownership of land could be restrained. But how could the restraint of power remain consistent with the avoidance of anarchic disagreement among those granted the task of supervision and restraint?
In response, it is argued here, the central legal and political task became one of managing disagreement and change peacefully and constructively -- by drawing on a colonial tradition that emphasised civility, negotiation and compromise. And the study of all of these qualities as they evolved, Ian Duncanson contends, is vital to understanding the emergence of the 'rule of law'.
Historiography, Empire and the Rule of Law will be invaluable for all those engaged in research and the postgraduate study of socio-legal and constitutional studies, and early modern and modern history.