The Domestic Politics of International Trade: Intellectual Property Rights in US-Colombia and US-Peru Free Trade Agreements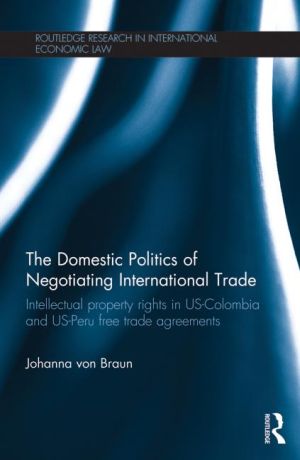 ISBN13: 9780415724548
Published: September 2013
Publisher: Routledge
Country of Publication: UK
Format: Paperback (Hardback in 2011)
Price: £31.99

Despatched in 4 to 6 days.
Today, many international free trade agreements (FTAs) are broader than they have ever been before and often affect numerous public policy sectors, such as education, the environment and public health. Yet when it comes to the actual negotiation of FTAs, however, domestic decision-making processes are often biased in favour of commercial objectives and fail to appropriately include the diverse political sectors that are affected by the respective agreements. This, naturally, influences the process and outcome of international negotiations and public policy objectives are often compromised.
Looking in detail at US-Peru and US-Colombia FTA negotiations and more specifically at the issues surrounding intellectual property rights, this book seeks to demonstrate the importance of domestic politics in understanding the nature and outcome of international negotiations, in particular as they relate to international economic diplomacy. The book draws on a substantial amount of empirical research including interviews with individuals in Peru, Colombia and the US who were directly or indirectly involved in the negotiation process, focusing on the conflict between giving way to the pressure from the USA to increase intellectual property rights on the one hand, and maintaining public health safeguards on the other. The book demonstrates how the respective structural and institutional characteristics in Peru, Columbia and the USA affected the process and outcome of the respective FTA negotiations, exploring issues such as domestic policy-structures, the centrality of government and the influence of interest groups and industry's lobbying. The book goes on to consider whether including public policy objectives in bilateral trade negotiations can ever be successful given the economic imperatives that provide the basis of such negotiations, or whether such objectives should instead be pursued through multilateral fora such as the World Health Organization.
This book will be of interest to academics as well as practitioners in international economic law intellectual property, political economy) and international relations, comparative politics and government.