Course Notes: Equity and Trusts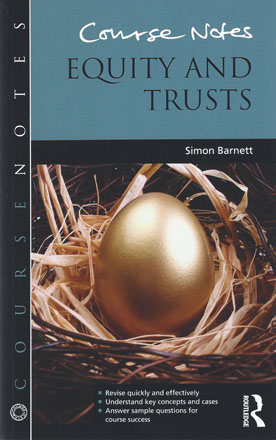 ISBN13: 9780415839136
Published: October 2013
Publisher: Routledge
Country of Publication: UK
Format: Paperback
Price: £17.99

Course Notes: Equity and Trusts is designed to show you how to develop the essential analytical and revision skills needed to succeed in this core LLB/GDL module.
Providing support for active learning, the books present as an expertly written set of revision notes for your subject, integrating tailored activities, workpoints, checkpoints and research points throughout the text to engage you in your revision. Each book in the series will teach you how to understand and analyse the most important legal concepts in your course, as well as how to remember the law accurately.
To aid memorisation and clarity, concepts are set out both verbally and in diagrammatic form, and the essential case law is displayed in a series of straightforward tables illustrating how best to compare legal points as expressed by the opinions of the authorities in each case.
To check your answers to questions examples are provided online along with sample essay plans and web links to useful web sites and sources as part of the ever popular resources at www.unlockingthelaw.co.uk, making this the ideal resource to guide you through the demands of compiling and revising the information you will need for your exams.