Mining Law of Canada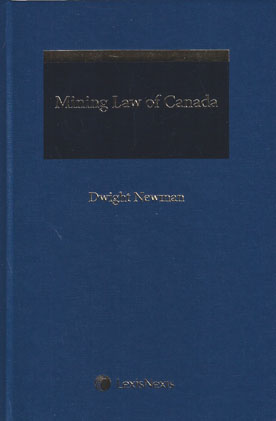 ISBN13: 9780433490067
Published: May 2018
Publisher: LexisNexis Canada
Country of Publication: Canada
Format: Hardback
Price: £126.00

With some of the world's richest mineral reserves, Canada is a mining superpower – yet very few books dedicated to mining law grace the shelves of Canadian law libraries.
That is about to change with the publication of Dwight Newman's new treatise, Mining Law of Canada. Offering a contemporary take on mining law in Canada, this text not only considers traditional topics like property issues on mineral acquisition, but also explores more recent additions to the mining law conversation, such as Indigenous rights and other claims by communities.
A comprehensive overview:-
Mining law provides a legal structure for the exploration for and development of mineral resources, as well as a system for maximizing the economic value that the industry can produce while complying with an appropriate regulatory framework. Given this broad mandate, mining law draws on a range of practice areas – from property law and constitutional law, to Aboriginal law and environmental law, to securities law and even international criminal law.
This text offers a comprehensive overview of these different aspects of mining law, and includes discussions about mineral rights, transactional provisions, foreign investment issues, financing and securities, mining operations, relevant taxation matters and extraterritorial regulation of Canadian mining companies working abroad.
In particular, Mining Law of Canada features expert commentary and in-depth analysis on the current state of mining law legislation and jurisprudence, including precedent-setting case law. As a result, it is a very useful reference for mining lawyers and professionals.