Shipping Law 4th ed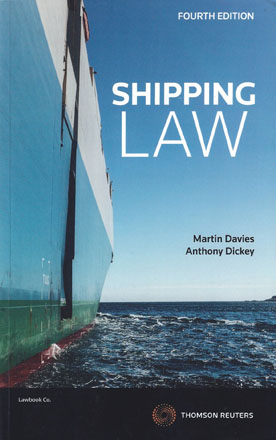 ISBN13: 9780455226767
Published: August 2016
Publisher: Thomson Reuters Australia
Country of Publication: Australia
Format: Paperback
Price: £216.00

Usually despatched in 1 to 3 weeks.
Shipping Law 4th ed is the landmark work in its field and provides comprehensive coverage of all aspects of maritime law from a uniquely Australian perspective.
The Fourth Edition of this well-respected text on Australian Shipping Law `captures the many developments that have occurred since the last edition published in 2004 and will include comparative reference to English and American law.
Commonly-occurring maritime law issues such as ship financing, insurance and liability are dealt with in useful detail alongside more occasional matters concerning pollution from ships, shipwrecks and the salvage of vessels. New developments considered include:
The effect of the Personal Properties Securities Act 2009 (Cth) on the ship registration and mortgage regimes;
The Federal Court's decision in Norden that forum selection clauses in voyage charterparties are enforceable under Australian law.
The right to possession of bunkers on time-chartered ships in the light of the recent failure of OW Bunkers;
Recent developments in relation to the definition of "safe port" in relation to both time and voyage charter parties;
Extended consideration of war risk, piracy, terrorism, and other force majeure events;
The 2011 version of the Inter-Club New York Produce Exchange Agreement;
The enactment of the Navigation Act 2012 (Cth), and its impact on many issues, including, particularly, limitation of time and apportionment of liability;
Australia's implementation of the 1996 Protocol to the 1976 Limitation of Liability for Maritime Claims Convention (LLMC), the increase of the 1996 limits in 2015, and the effect of Australia's denunciation of the original 1976 Convention in relation to international choice of forum;
The impact that Australia's enactment of the UNCITRAL Model Law on Cross-Border Insolvency in the Cross-Border Insolvency Act 2008 (Cth) has on maritime litigation;
The effect of the Insurance Act 2015 (UK) on English marine insurance law (with effect from 2016) and the possibility that Australian marine insurance law will (or may not) follow suit;
Amendments to the York-Antwerp Rules on general average that are expected to be made by the Comité Maritime International (CMI) in 2016, to make the (New) York-Antwerp Rules;
Australia's implementation of the International Convention on Civil Liability for Bunker Oil Pollution Damage 2001 (the Bunker Convention); and
Australia's implementation of Annex VI of the International Convention for the Prevention of Pollution by Ships 1973 (MARPOL), dealing with air pollution from ships.
Shipping Law
Fourth Edition is an authoritative and invaluable resource for maritime law practitioners, maritime insurers and organisations involved in transporting goods by sea.