Judicial Review of Administrative Action and Government Liability 6th ed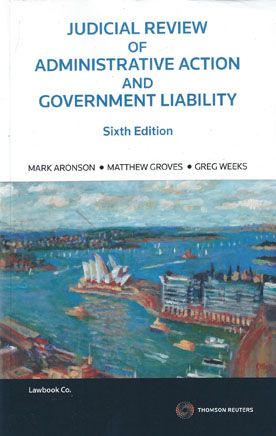 ISBN13: 9780455238241
Published: January 2017
Publisher: Clearance
Country of Publication: Australia
Format: Paperback
Price: £50.00
(Second Hand)

Judicial Review of Administrative Action and Government Liability 6th ed is one of Australia's most respected legal texts. It became the first title in our prestigious Lawbook Library Series, because it represents definitive legal scholarship and publishing excellence in Australian law.
For two decades, this work has both mapped and supported development of the law and practice of judicial review of administrative action throughout Australia. Repeatedly cited in the High Court of Australia, this landmark work remains the definitive scholarly work for judicial officers, practitioners and students alike.
Significant developments have occurred since the Fifth Edition published in 2013. These include High Court cases, such as Minister for Immigration v Li – resulting in a discernible change in direction in the Federal Court, particularly in migration cases - and decisions of the Full Court of the Federal Court, and of the Courts of Appeal of the States and Territories.
The matters considered include: workers compensation, security of payments schemes in the construction industry, planning and local government law, and further development of the relationships between appeals and judicial review. Importantly, the Full Court of the Federal Court has announced a simplification of the criteria for appeals limited to questions of law, overturning literally dozens of earlier precedents.
The work has now been further enhanced by the inclusion of a substantial and entirely new chapter on the special statutory and common law rules that apply to government liability in contract, tort, and restitution.
For the Sixth Edition, Mark Aronson and Matthew Groves are joined by Greg Weeks from University of New South Wales. Their combined expertise has ensured this pre-eminent title continues to provide a fresh and authoritative treatment of judicial review of administrative actions in Australia.