Easing the Passing: The Trial of Dr John Bodkin Adams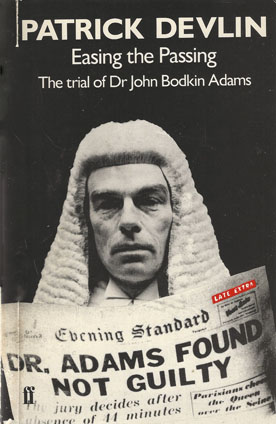 ISBN13: 9780571139934
ISBN: 0571139930
Published: April 1986
Publisher: The Bodley Head
Country of Publication: UK
Format: Paperback (Hardback in 1985)
Price: Out of print

'Easing the passing of a dying person isn't all that wicked. She wanted to die—that can't be murder.' Such was the essence of the self-defence of Dr John Bodkin Adams, who died in Eastbourne in 1983 at the age of 84.
The twenty-five years which separated his death from his acquittal at the Old Bailey on a charge of killing one of his patients have done nothing to diminish public interest in one of the most fascinating and controversial cases in twentieth-century legal histon-. The arguments about the jury's decision have been revived throughout the media, and the case is being openly debated in a way which was impossible as long as Dr Adams was alive.
Now, from his unique position as the judge who presided at the Old Bailey trial, the former Mr Justice Devlin gives readers the opportunity to follow the proceedings through his own eyes. He explains how he was chosen to be the judge, gives an inside view of the conduct of a major trial and expertly analyses the performance of the prosecution and defence teams, notably that of the Attorney General, the politically ambitious Sir Reginald Manningham-Buller, who later restored his reputation through attacking the report of a judicial commission which Lord Devlin had chaired. And we are taken behind the scenes to watch how a judge prepares himself for a summing up which, in this case, left little doubt about the verdict.
The Bodkin Adams trial will always be remembered not only for the international publicity which surrounded it and which threatened to prejudice its outcome, but also for the vitally important issues it raised for the legal world concerning the admissibility of similar killings to prove guilty intent; and for the medical world through the court's efforts to define the boundary between `easing the passing' and murder.
Nobody is better placed than Lord Devlin to tell the story and discuss the consequences. A particularly intriguing aspect of his book is his answer to the question: after a quarter of a century and with all the advantages of hindsight what now is his opinion of the case and the jurti's verdict?
This is the first full-length book written by a judge about a trial over which he presided.