Cases and Materials on the Law of Torts 10th ed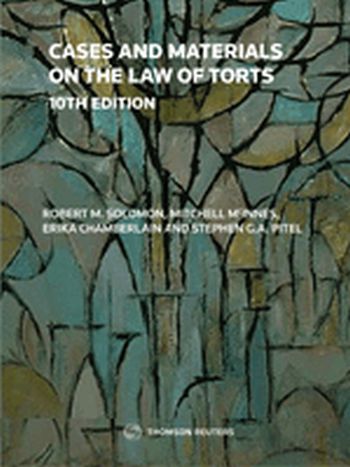 ISBN13: 9780779891375
Published: December 2019
Publisher: The Carswell Company Ltd.
Country of Publication: Canada
Format: Paperback
Price: £176.00

This highly regarded casebook provides a detailed examination of every major area of Canadian tort law. For each topic there are clear explanatory introductions, concise extracts of key judicial decisions and statutes, editorial discussions, detailed notes, questions and references to the literature, and review problems.
New in this edition:-
The tenth edition of Cases and Materials on the Law of Torts retains the qualities and features of the previous edition and has added:
Recent Supreme Court of Canada decisions on negligent misrepresentation, reasonable foreseeability, and recovery for psychiatric harm.
New sections on the nature of damage in negligence, remoteness and losses beyond the scope of the risk. Updated analysis of waivers and exclusion clauses, defamation cases decided pursuant to anti-SLAPP legislation, the conversion of cheques, cyber-bullying and the non-consensual recording and/or distribution of intimate images.
Updated discussion of the use of deadly force in defence of property, the use of drones in the context of privacy and trespass to airspace, the illegality defence, nuisance, conspiracy, the unlawful means tort, and Charter damages.
New review problems and updates notes that include many recent cases and articles.