Chancery Practice and Orders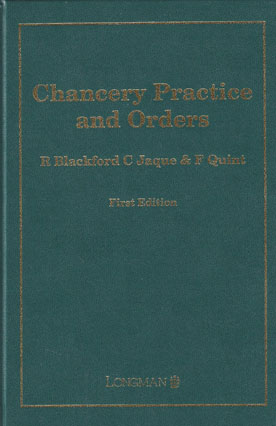 ISBN13: 9780851217031
ISBN: 0851217036
Published: August 1991
Publisher: Longman Law, Tax and Finance
Country of Publication: UK
Format: Hardback
Price: Out of print

Out of Print
This book combines and updates Chancery Practice Handbook by Robert Blackford and Colin Jaque and Chancery Orders by Edmund Heward, formerly Chief Chancery Master.
Its purpose is to give practical guidance in day to day Chancery practice. Text describing the workings of the Chancery Division is combined with specimen orders and the design of the book is such that it can be used without necessarily having to refer elsewhere.
The scope is wide reaching and includes all Chancery actions and applications likely to be met with. The procedure in each instance is given in sequence, with a short section indicating possible hazards and pitfalls, so that the reader may avoid them. Relevant forms of order appear at the end of chapters.
Reference is made to all Practice Directions currently in use, the book is entirely up to date, and includes a comprehensive listing of the powers of masters and judges, and introduces all recent changes in the Rules. However, the 'illustrations' provided are intended to be referred to only in terms of general content and layout-care should be taken not to include any factual statements they contain which.do not accord with the practitioner's own cases.
We are grateful to HMSO and the Lord Chancellor's Department for permission to use the forms of order in use in the Chancery Division drafting section and to Mr W R Heeler, the head of that section, and his colleagues for their considerable help.
Robert Blackford Colin Jaque Francesca Quint August 1991