Bailiffs' Law: Volumes 1 & 2: A Lawful Trespass & Persons of No Value?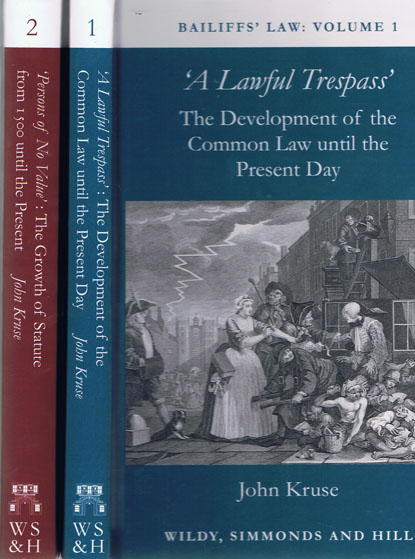 ISBN13: 9780854900336
Published: April 2009
Publisher: Wildy, Simmonds and Hill Publishing
Country of Publication: UK
Format: Hardback, 2 Volumes
Price: £85.00

Bailiffs' Law Volume 1
Bailiffs' Law Volume 2
The law relating to distress and execution is a much neglected area of study, despite the fact that bailiffs regularly appear in literary works and their activities are a constant feature of court rolls. This two-volume work aims to provide a detailed and comprehensive history of both the development of the law and the profession of bailiff.
The work chronicles the growth of enforcement law from Anglo-Saxon times, tracing the continuity in the common law and examining the intervention of statute. The seizure of goods by bailiffs was a familiar aspect of life in earlier times and this work sets their legal powers into their legal, social and economic context.
Key themes are explored throughout both volumes: the protection given to certain essential goods, the efforts to regulate the conduct of bailiffs and the gradual shift of emphasis from promoting the rights of creditors to enhancing the protection of debtors.