Court Scenes: The Court Art of Priscilla Coleman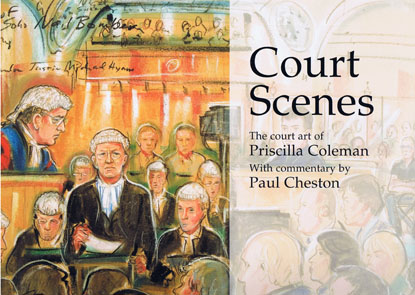 ISBN13: 9780854900398
Published: October 2010
Publisher: Wildy, Simmonds and Hill Publishing
Country of Publication: UK
Format: Hardback
Price: £24.99

Priscilla Coleman has been drawing court scenes for over 20 years. The pictures collected here mark many of the most important trials of that period. There is a widespread misunderstanding among those who see pictures on TV or in the newspapers that an artist can sketch as much as they like in court.
As lawyers know, far from taking a palate and easel into the public gallery, any attempt at photography, drawings or visual representations is strictly verboten. Artists have to memorise in court the colours, shades, clothing, facial mannerisms and physical idiocyncracies then go out and draw a likeness from memory . . . against the clock.
About the Authors
Priscilla Coleman was born in Chilton, near Waco Texas and went to high school in Chilton and Huntsville before studying fine art and graphics at Sam Houston State University, Texas. Inspired by her mother Henrietta, a talented fashion illustrator and portrait painter, Priscilla is driven by a love of drawing people.
She approached ITN with a video tape of her electronic news graphics and court drawings from her time with Channel 13 and KTRK TV in Houston where she was art director for news, and was hired straight away. Her first sketch was of Jeffrey Archer and Monica Coghlan in the notorious High Court libel trial.
More of Priscilla's work can be seen on her own website
Paul Cheston is the courts correspondent of the London Evening Standard. He was born in Aberdare, Mid Glamorgan and educated at Kimbolton School and the University of East Anglia. He covered his first court case for the Diss Express and, after training on the Middlesbrough Evening Gazette, came to Fleet Street to work for the Press Association.
He joined the short-lived London Daily News and was in court on the final day of the Jeffrey Archer libel trial when owner Robert Maxwell closed the paper down. After brief work for the Daily Star and Sunday Express he joined the Evening Standard as a general news reporter. He was appointed courts correspondent in 1993 and is co-author of Brothers in Blood published in 1994.