Powers of Distress: A Guide to Remedies Unreformed by the Tribunals, Courts and Enforcement Act 2007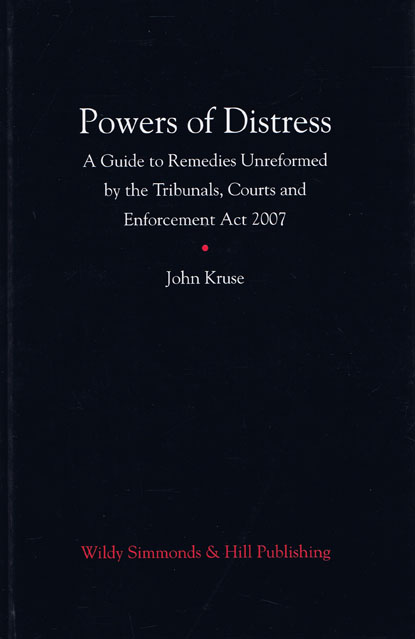 ISBN13: 9780854900459
Published: May 2009
Publisher: Wildy, Simmonds and Hill Publishing
Country of Publication: UK
Format: Hardback
Price: £65.00

The Tribunals Courts & Enforcement Act 2007 will, for many debts, sweep away the old procedures and principles of enforcement and introducing a new code of law. However, some debts have been deliberately excluded from these changes.
The liabilities in question include a wide range of shipping liabilities including harbour dues and fines, market tolls and stallages, distress damage feasant for trespassing chattels and powers of seizure of trespassing animals under the Animals Act 1971, arrests of aircraft and ecclesiastical executions. For them, the old common law procedures and principles will continue to operate unaltered.
In a single volume this timely book offers a detailed examination of arrears which have in many respects been neglected and which thereby have been allowed to become obscure and poorly understood. The new Act may cause further difficulties by creating two parallel systems of enforcement- one for the most common debts and one for the remainder.
This text aims to restore some balance to this dichotomy by, for the first time, uniting these less common forms of recovery in a clear and structured work. It provides a thorough analysis of the case law developed over the centuries along with discussion of the relevant statutory provisions.