Club Law Manual 2nd ed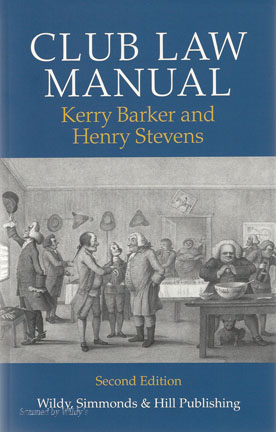 ISBN13: 9780854900626
Published: April 2011
Publisher: Wildy, Simmonds and Hill Publishing
Country of Publication: UK
Format: Paperback
Price: £35.00

"the second edition of this useful book on club law...an accessible account of the legal management of clubs. Aimed at the interested club member or official and their legal adviser, the book is not limited to licensing, but in 174 pages of text deals also with a variety of other matters - ranging from fund raising and internal regulation to health and food safety. It also contains some useful appendices. As the title states, it is a manual outlining club law, and as such is sufficient for the needs of club officials. For practitioners its use is to alert them to relevant issues which can be further researched in the legal literature. As such it is a valuable resource which is well written and neatly laid out."
Solicitors Journal
Members' clubs have for many years enjoyed a special status at law, in particular in relation to the supply and sale of alcohol. The new legislation introduced by the Licensing Act 2003 in itself justified a book for those involved in the running of, licensing, policing or advising, members' clubs and Ken Pain, the original author, took the opportunity to deal with many other topics of importance to clubs, their officers and members.
Club Law Manual was intended to provide a practical but authoritative guide to the relevant law to lawyers and non-lawyers alike and, to police officers and local authorities and their staff.
This second edition not only brings this much used book up-to-date but enhances the original text by introducing chapters on gambling and fund-raising, hearings and appeals. Chapters on liabilities, employment, health and safety and food safety have been re-written to include issues raised by readers.
The sections on entertainment, supply and sale of alcohol and internal regulation have been expanded to incorporate amendments to the Licensing Act 2003, changes to the law on sexual entertainment and the Equality Act 2010. In addition, a template for club rules is included within the appendices.
The new authors are practising barristers and specialists in their fields.