Leasehold Enfranchisement: Law and Practice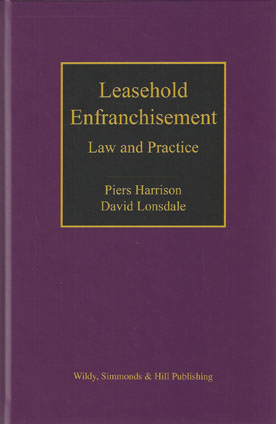 ISBN13: 9780854900657
Published: July 2014
Publisher: Wildy, Simmonds and Hill Publishing
Country of Publication: UK
Format: Hardback
Price: £95.00

This practical book is written with the busy practitioner in mind, explaining the law in clear and simple terms and concentrating heavily on procedure. The procedural chapters make up the greater part of the book and are designed to ensure that the practitioner drafts notices without mistakes and understands the critical time limits.
Leasehold Enfranchisement contains checklists of mistakes to be avoided in the preparation of notices and clear guidance on procedure post service of the notice. The book enables the reader to find the essential information easily.
Fully up to date with the new procedural rules, Leasehold Enfranchisement includes the latest forms published by the First-tier Tribunal. It is accessible and practical, providing guidance on filling in notices, and checklists of common mistakes to be avoided.
The authors provide plenty of detail on how to accomplish the main task for a solicitor in this area. The book also tackles valuation in a way that a non-valuer can understand so that the solicitor understands the valuation exercise.