The Lord Slynn of Hadley European Law Foundation: The First Ten Years 2nd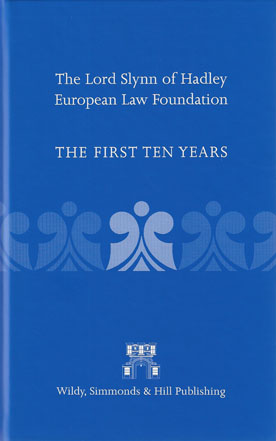 ISBN13: 9780854900817
Published: February 2011
Publisher: Wildy, Simmonds and Hill Publishing
Country of Publication: UK
Format: Hardback
Price: £25.00

The Lord Slynn of Hadley European Law Foundation was created in 1999, on the initiative of His Honour George Dobry CBE QC, to provide support, advice and training for the judiciary and the legal profession in countries in Central and Eastern Europe who were then aspiring to become members of the European Union. Many of these countries are now members.
A number of countries still remain outside the European Union. At the present time the Foundation is engaged in seeking to help those countries, and also any countries inside the Union that is seeking our assistance, in collaborative projects directed mainly to the following themes – judicial independence and the rule of law, human rights law, EU law and practice, and mediation and other forms of ADR.
In addition, the Foundation awards fellowships to enable promising young lawyers from other countries in the European Union to study and work for a period in the UK. The Foundation was named after Lord Slynn in recognition of his outstanding contribution to the development of the principles and practice of European law.
The Foundation arranges Lectures from time to time given by eminent speakers on subjects that are of interest and importance to lawyers in the European Union. This book contains the lectures from the first ten years along with memorials to Lord Slynn and his accomplishments.
Lectures include:-
Drinks in Luxembourg: Alcoholic Beverages and the Case Law of the European Court of Justice (22 March 1999) H E Gil Carlos Rodriguez Iglesias
Environment: Building a European Framework (10 May 2000) Sir Crispin Tickell GCMG GCVO
The ICJ and the EEC: Two Courts in Europe (10 April 2002) H E Judge Rosalyn Higgins DBE
Europe's Role in the World (21 October 2002) Lord Hannay of Chiswick GCMG
Globalisation and the Law (14 October 2003) The Rt Hon Christopher Patten CH
The EU Constitution: What Next? (15 October 2005) Lord Wallace of Saltaire
Winds of Change in the Strasbourg Court (17 May 2007) Sir Nicolas Bratza
Judging the Administration in France: Changes Ahead? (27 November 2007) M. Jean-Marc Sauvé, Vice President of the Conseil d'Etat, France