Wills: A Practical Guide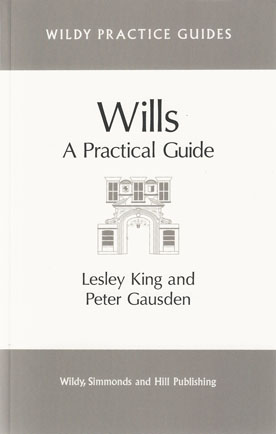 ISBN13: 9780854900909
Published: November 2011
Publisher: Wildy, Simmonds and Hill Publishing
Country of Publication: UK
Format: Paperback
Price: Out of print

Wills: A Practical Guide contains a wealth of information on wills and their making in a compact, user-friendly format. It is an aide-memoire to practitioners who are not necessarily experts in the area but who are faced with issues involving wills.
As well as dealing with making a will and the succession implications of the possible dispositions, the book also considers the planning and drafting of tax-efficient wills along with typical strategies for passing down the family wealth. There are illustrative case studies which demonstrate the application of the intestacy rules and tax efficient planning for testators with typical will-making problems. The case studies include using the transferable nil rate band effectively and maximising business property relief.
One particular feature of the book is that it covers a number of issues that are potentially litigious. Litigation over disputed wills is sadly on the rise and costs can easily swallow up the whole of modest to moderate estates. Just as bad as the financial waste, are the irreconcilable rifts and misery that bitter family disputes can cause in determining capacity, claims under the Inheritance (Provision for Family and Dependants) Act 1975, mutual wills, conflicts with other death dispositions such as estoppel, foreign property and issues over the will's construction and interpretation. The book's aim throughout is to help the reader avoid potential problems so far as possible and it concludes with a whole chapter on tips to avoid common drafting pitfalls.
The book takes account of recent developments including the Estates of Deceased Persons (Forfeiture Rule and Law of Succession) Act 2011 and the cases of Barrett v Bem on signatures, RSPCA v Gill on testamentary intention and Ilott v Mitson on testamentary freedom. The text is supported by a number of useful precedents and checklists.