Sexual Offences Handbook: Law, Practice and Procedure 2nd ed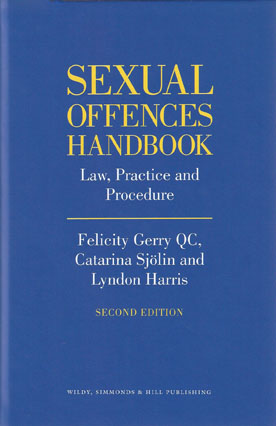 ISBN13: 9780854901227
Published: October 2014
Publisher: Wildy, Simmonds and Hill Publishing
Country of Publication: UK
Format: Hardback
Price: £95.00

The law and procedure relating to sexual offences is notoriously complex. Since the advent of the Sexual Offences Act 2003, the law (both as to the offences and as to sentencing) changes depending on when the offence was committed, the age of the parties involved and the nature of the act committed.
This new edition of the Sexual Offences Handbook has been updated to reflect the latest law, practice and procedure in all cases involving historic and recent sexual offences, providing a step-by-step approach from the perspectives of both prosecution and the defence.
Written by practitioners and academics with extensive experience of researching, preparing and presenting such trials, this practical and accessible work will prove an invaluable reference for those working within this specialised area of criminal law. This new edition:
covers new legislation, case-law and guidance
is essential for dealing with all recent and/or historic allegations
considers new sexual offences sentencing guidelines
Deals with indecent images and other prohibited publications

"...timely...written by practitioners for practitioners... yet at the same time with the depth of scholarly analysis that this area of law demands...To combine practicality and depth of detail is a very difficult balancing exercise for any author, but in this instance it has been executed brilliantly...with a modest price tag of £95 for a book of this quality ...you should buy it." Andrew Keogh, Crimeline
If you have an interest in criminal law or sexual offences, please see Felicity Gerry's blog
The Sexual Offences Handbook.
The blog is quickly becoming the first source for comment and information on this topical subject.