Judicial Precedent and Arbitration: Are Arbitrators Bound By Judicial Precedent?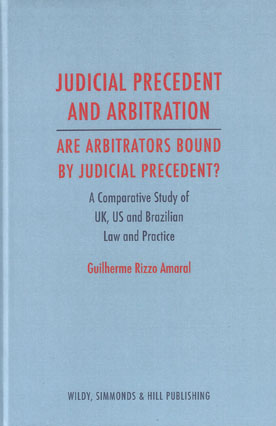 ISBN13: 9780854902279
Published: July 2017
Publisher: Wildy, Simmonds and Hill Publishing
Country of Publication: UK
Format: Hardback
Price: Out of print

One of the cornerstones of arbitration is the finality of arbitral awards. Saving rare exceptions, arbitral awards cannot be subject to challenges based on the arbitrator's errors of law.
Furthermore, there is no hierarchy between arbitral tribunals and judicial courts, nor are arbitrators part of any judicial system. Thus, if arbitrators are not part of any hierarchical scheme and if there is no challenge or appeal available against their errors of law, how could one say that arbitrators have a duty to follow judicial precedents?
Besides, when individuals agree to solve their disputes outside the judicial arena, should they expect a private arbitrator to abide by the same standards of a system they have just avoided? Is the choice for arbitration not a choice for an entirely different legal system, unbound by the so¬called judge-made law?
This book attempts to answer those questions by presenting a comprehensive guide to the relation between judicial precedents and arbitration in the United States, the United Kingdom and in Brazil, as well as in international arbitration as a whole