Chance, Cheek and Some Heroics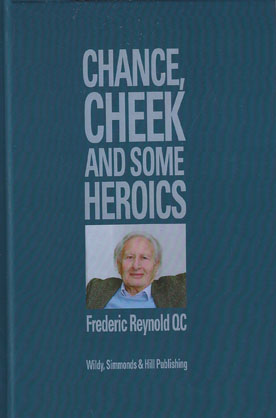 ISBN13: 9780854902446
Published: February 2018
Publisher: Wildy, Simmonds and Hill Publishing
Country of Publication: UK
Format: Hardback
Price: £19.95

"Reynold is endowed with a natural narrative ability, assisted by humour, crispness and elegance ... genuinely fascinating" Thomas Grant QC, Counsel magazine
These memoirs show the wit and acuity of a highly-trained legal mind while being a real pleasure read at the same time.
They also provide a brief and entertaining account of what it was like to grow up with a refugee background in both wartime and immediate post-war Britain. Freddy Reynold has had an exceptionally long career, during which he appeared in many landmark cases in different areas of law and engaged with most of the elite advocates and judges of the times.
Although his descriptions of the past are illuminating, they are always written with the present and future of advocacy in mind. His comments on the present state of the Bar and Judiciary are based on years of experience and well worth considering.