The Sir Thomas More Lectures 2012-2017: Lincoln's Inn Lectures on European Law and Human Rights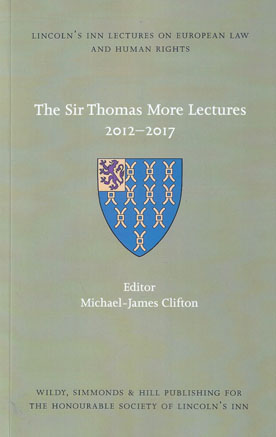 ISBN13: 9780854902637
Published: October 2018
Publisher: Wildy, Simmonds and Hill Publishing
Country of Publication: UK
Format: Paperback
Price: £14.95

The Lincoln's Inn annual Sir Thomas More Lecture is one of the largest public educational events in the Inn's calendar.
Over the past twenty years, the Sir Thomas More Lectures have brought to the Inn some of the most illustrious figures in the world of European Law and Human Rights.
This volume reproduces the text of the annual Sir Thomas More Lectures for the years 2012 to 2017 as part of the Inn's extensive programme of teaching and training in European Law and Human Rights.
The lectures include:
Sir Thomas More Lecture 2012 THE PRINCIPLE OF DEMOCRACY IN THE CASE-LAW OF THE EUROPEAN COURT OF JUSTICE Prof. Koen Lenaerts, Vice-President of the European Court of Justice
Sir Thomas More Lecture 2013 EUROPEAN INTEGRATION AND THE BUNDESVERFASSUNGSGERICHT Prof. Dr. Andreas Voßkuhle, President of the Bundesverfassungsgericht
Sir Thomas More Lecture 2014 EU LAW AND THE SUPREME COURT The Rt. Hon. Lord Reed, Justice of the Supreme Court
Sir Thomas More Lecture 2015< WHITHER JUDICIAL DIALOGUE? Dean Spielmann, President of the European Court of Human Rights
Sir Thomas More Lecture 2016 BREXIT AND THE BALANCE OF OUR CONSTITUTION Prof. John Finnis FBA, Emeritus Professor of Law and Legal Philosophy, University of Oxford
Sir Thomas More Lecture 2017 BREXIT – AN AUSTRALIAN PERSPECTIVE The Hon. James Spigelman AC QC, Honorary Bencher of Lincoln's Inn