Positive Covenants and Freehold Land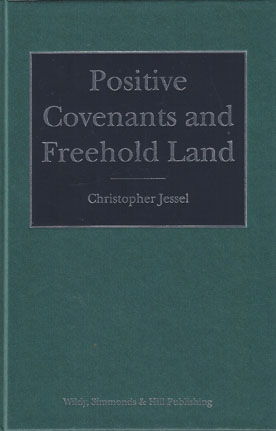 ISBN13: 9780854902699
Published: June 2019
Publisher: Wildy, Simmonds and Hill Publishing
Country of Publication: UK
Format: Hardback
Price: £95.00

' … a welcome addition to any property lawyer's bookshelf for some time to come 'From review in Property Law Journal
' ... it sets out with admirable clarity both why the current rules exist and how they operate in practice' 'From review in Law Society Gazette
Positive covenants are obligations binding the owner of land for the time being which require some form of action or expenditure such as keeping a roof or wall in repair or paying instalments of service charge over many years.
Positive Covenants and Freehold Land concerns the rule of property law that a positive covenant cannot bind successors in title to the original covenantor. It considers the origin of the rule, the legal reasoning behind it, and the historical, social and political context in which it has developed. The book then looks at the various methods to circumvent it by using restrictions on the register of title, estate rentcharges, rights of re-entry, the principle of benefit and burden and the use of long leases as virtual freeholds.

A modern structure designed to overcome the problem is the system of commonhold which is currently under review by the Law Commission. The law of easements, particularly in relation to fencing, and the law of nuisance can have the effect of imposing positive obligations on landowners.

Statutes can also either require owners to take specified steps such as keeping listed buildings in repair or they can authorise a landowner to enter into obligations as under the Town and Country Planning Act s 106. Separate chapters examine the issues to be considered on assignment of the benefit of positive covenants, on the transfer of land which is subject to the burden of them, and on the way that covenants operate in the management of housing and commercial estates.

Reform of the law of positive covenants has been in prospect for over 50 years without any response by Parliament but there is now the possibility of Government support. A chapter is included on issues to be borne in mind in drafting covenants and an examination of the juristic nature of positive covenants and their nature as part of a neighbour relationship. The book also features a number of suggested precedents for the practitioner.