Advising and Representing Clients at Mediation 2nd ed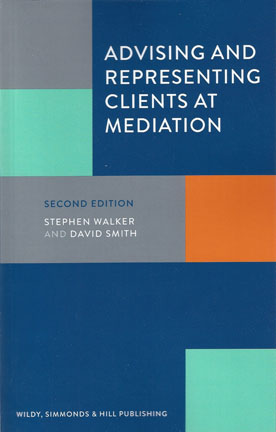 ISBN13: 9780854902774
Published: November 2019
Publisher: Wildy, Simmonds and Hill Publishing
Country of Publication: UK
Format: Paperback
Price: £45.00

Advising and Representing Clients at Mediation is an invaluable guide for lawyers, surveyors and other professionals. It will assist at every stage of the mediation process from persuading the other party to mediate and preparing for and taking part in the mediation itself to advising clients on what to expect and how to conduct themselves at a mediation.
The book also offers extensive checklists and precedents, practical advice from experienced mediators, and a clear explanation of the law as it currently stands.
The book is fully updated with all the changes in the mediation sector including new relevant case law, the new approaches created by the Jackson reforms and the Jackson ADR Handbook, and the latest thinking on ADR processes and procedures.
"Every now and then a book is published for legal representatives that goes beyond a mere analysis of the law and technical guidance, and makes the reader stop and think. This is one such publication. I wish I had read this book before I first represented clients as a solicitor at mediations. Now, as a commercial mediator, plenty in the book resonates with my own experiences. It is packed with real-life tips and examples. It will help a representative get the very best out of the mediation process for their client."
The Law Society Gazette review of the previous edition