Lord Denning: Life, Law and Legacy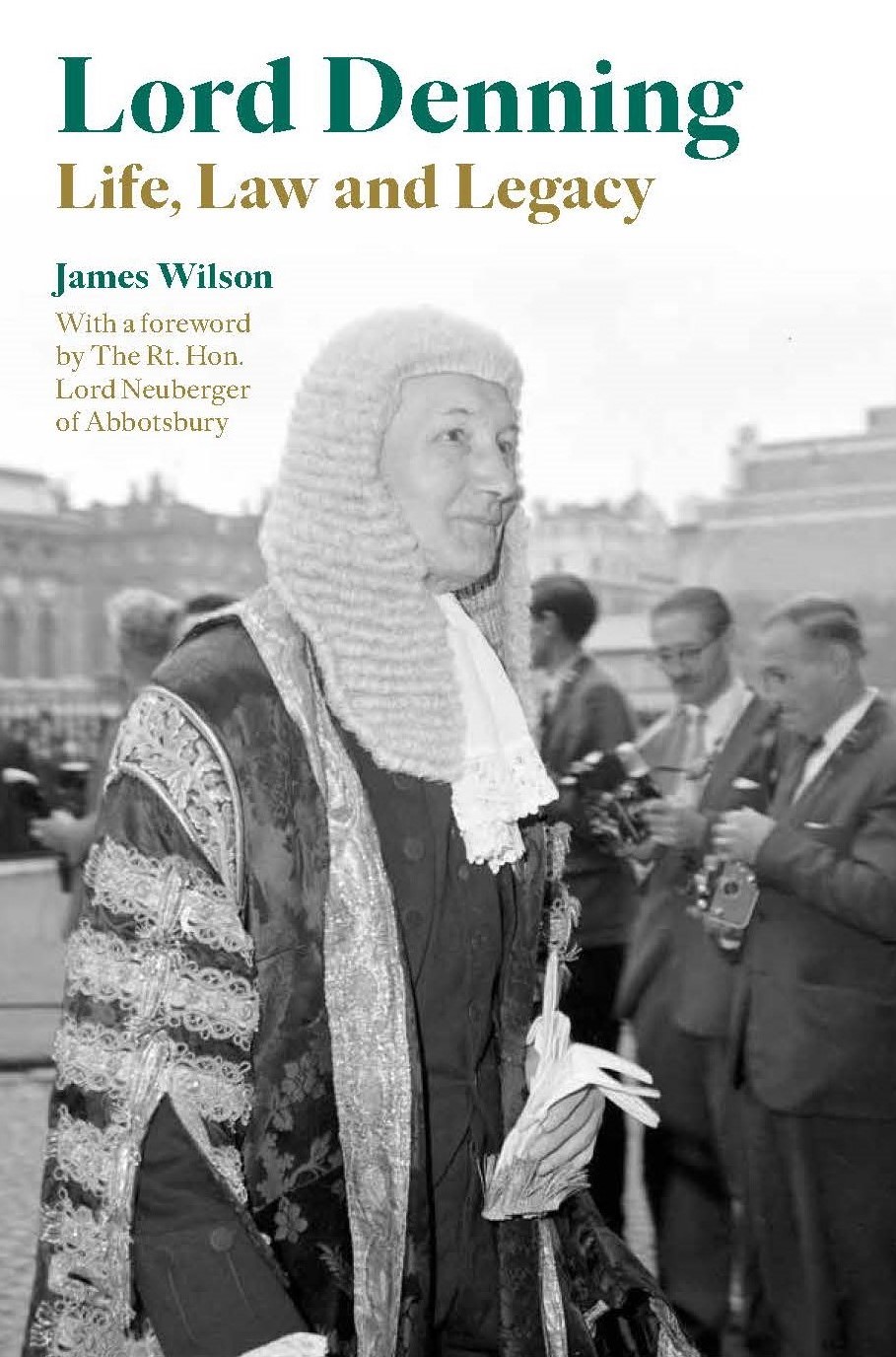 ISBN13: 9780854902941
Published: March 2023
Publisher: Wildy, Simmonds and Hill Publishing
Country of Publication: UK
Format: Hardback
Price: £30.00

"In this excellent book, James Wilson has managed to capture both the man and the judge." From the foreword by Rt Hon Lord Neuberger of Abbotsbury
"easy to read, full of interesting information and very well produced... a readable, honest and accurate portrait of the man and some of his most interesting and significant judgments."
The Law Society Gazette
"This is not the first book to have considered Denning's career nor is likely to be the last; but, by making full use of archive material in its treatment of Denning's life outside as well as inside the law ...it is for now the best."
The Times Literary Supplement
"A review of Lord Denning's life and work from a greater distance and perhaps with more rounded perspective than earlier biographies is certainly welcome... provides not only a detailed, insightful, and accessible account of Lord Denning's life and career; it also includes reliably succinct and yet scholarly accounts of his contributions... one can only agree with Lord Neuberger's assessment in the foreword that 'Wilson has managed to capture both the man and the judge'.
New Law Journal
Lord Denning was the most famous English judge of the twentieth century. Arguably, he was the most famous of any century.
His judgments were legendary for both their style and substance. The style was instantly recognisable, with his short sentences and unique method of storytelling. The substance was always less about law and more about justice, as Denning looked for the fairest outcome to every case before him.
Over time, Denning's views on justice and his manipulation of precedent became increasingly controversial. As society changed around him, he adhered rigidly to the Edwardian morality of his childhood. His report on the Profumo Affair – the most sensational political scandal of post-war Britain – was dismissed by some as an 'establishment whitewash'. His rulings in trade union disputes earned him many critics, while his dismissal of the appeal of the 'Birmingham Six' falsely convicted of a terrorist atrocity became notorious when a gross miscarriage of justice was later uncovered. Yet enough goodwill remained for him to be called after his death 'the best-known and best-loved judge in the whole of our history' by the Lord Chief Justice, Lord Bingham.
For all his controversies, there is no question that Denning led an extraordinary life. Born into a family of modest means in a small Hampshire town in 1899, he went on to gain two firsts from Oxford and a commission in the First World War, before becoming a successful barrister and serving almost 40 years as a senior judge.
This book looks at that remarkable life story as well as assessing Denning's legacy, showing how he continues to influence, inspire and occasionally infuriate.