A Practical Guide to Using Repo Master Agreements 3rd ed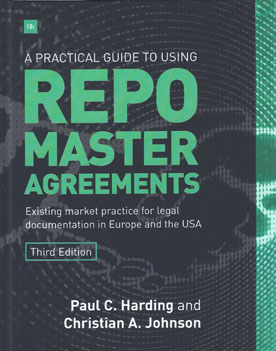 ISBN13: 9780857195852
Published: February 2017
Publisher: Harriman House Publishing
Country of Publication: UK
Format: Paperback
Price: £175.00

A Practical Guide to Using Repo Master Agreements is the essential book for all who need to know about the international repo market and its products, the important legal, credit and regulatory issues in this space, and most of all need to understand the contents of repo master agreements so that they can negotiate them safely and confidently.
The book is written by two of the world's leading commentators on the subject, Paul C Harding and Christian A Johnson and its coverage is comprehensive.
This new third edition principally offers readers a detailed guide to the most widely used European and US repo master agreements through a clause-by-clause text and commentary on each master agreement. This commentary is written in clear English for a good, swift understanding of the implications of each provision.
The full texts of each repo master agreement are reproduced in the appendices with the kind permission of the trade associations concerned.
Triparty repo is an important part of the US repo market and clause-by-clause commentary and a full text of the Bank of New York Mellon Tri-party Custodial Repo Agreement (2016) is also provided.
This third edition has been updated to include:-
The new, updated Bank of New York Mellon Tri-party Custodial Repo Agreement (2016).
A summary of recent developments in the European and US repo markets since 2012.
Fresh examples of clauses parties seek to negotiate in these agreements.
A comprehensive and easy-to-navigate table of contents to find items of greatest interest quickly
This book is principally aimed at lawyers and paralegals who negotiate ICMA and SIFMA repo master agreements. Other professionals in the European and US securities markets will also find this book useful. These could include traders, credit officers and regulators as well as academics specialising in financial securities.
Such professionals may work for commercial or investment banks, law firms, treasury units, central banks, pension funds and fund managers. Such is the broad potential appeal of this must-have book which caters for the novice and seasoned negotiator alike.