Injunctions and Specific Performance Looseleaf 2nd ed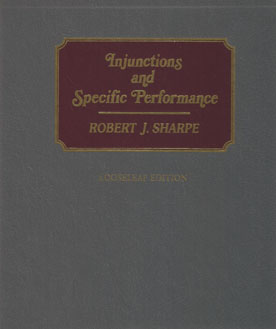 ISBN13: 9780888042903
Latest Release: December 01, 2021
Publisher: The Carswell Company Ltd Subscriptions
Country of Publication: Canada
Format: Looseleaf, 1 Volume
Price: Price on Application

Subscription Type: Pay-as-you-go
Joint Winner of the Walter Owen Book Prize, 1987
This highly acclaimed classic text provides everything you need to decide whether your client has suitable or reasonable grounds for seeking an injunction or specific performance.
You will find the principles governing the availability of injunctions and specific performance, including the adequacy of damages and problems of supervision and other discretionary factors.
Part I deals with all aspects of injunctions law, including:-
interlocutory injunctions
ex parte motions
Mareva and Anton Piller orders
injunctions as a Charter remedy
injunctions to protect proprietary and non-proprietary remedies
anti-suit injunctions
enforcement through contempt
Part II provides comprehensive treatment of the availability of specific performance, and discusses the modern approach to:-
uniqueness
adequacy of damages
efficient breach
election of remedies
discretionary defences
the enforcement of long-term agreements
Updated 1-3 times per year at approximately £155.00 each.
This easy-to-read publication features unique cross referencing to The Law of Damages by Stephen M. Waddams