The Family Court Without a Lawyer: A Handbook for Litigants in Person 2nd ed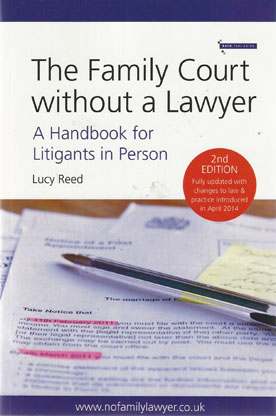 ISBN13: 9780956777423
Published: June 2014
Publisher: Bath Publishing
Country of Publication: UK
Format: Paperback
Price: Out of print

The Family Court without a Lawyer is the book you need if you have to go to court to sort out issues over separation, money or children and do not have a lawyer to represent you.
This thoroughly revised 2nd edition is being fully updated to explain the new law and procedures in force from April 2014.
Lucy Reed is a barrister specializing in family law, a family mediator and legal writer. She has distilled the knowledge and expertise gained from representing clients in court over many years to write the essential guide to the Family Court for the non-lawyer. In clear language she provides a thorough guide to the law that you will need to know, plus countless tips and insights on how you should best prepare and present your case such as:-
what to expect and where to go when you turn up at the court
what to think about when deciding to call a witness
how to challenge a judge's decision through an appeal
clear explanations of legal terms, jargon and concepts Full access to this website is also included in the price.
All this practical advice and support makes
The Family Court without a Lawyer
much more than just a DIY divorce book. It is a practical tool to help you in court and a reference to help you understand what happens in the Family Court, whether or not you have a lawyer.
The Family Court without a Lawyer
is also useful if you are supporting someone through the court process, if you have a lawyer but want to gain a better understanding of what is going on in your case, or if you are considering what your options are before going to court.