Lexicon of Trust & Foundation Practice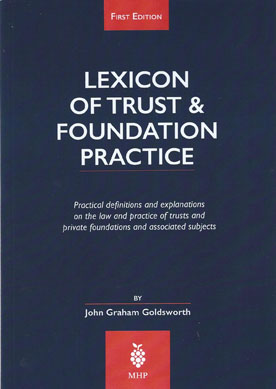 ISBN13: 9780957084315
Published: April 2016
Publisher: Mulberry House Press
Country of Publication: UK
Format: Paperback
Price: £55.00

John Graham Goldsworth, using material accumulated over 25 years in the trust industry, has made the publication of the Lexicon of Trust & Foundation Practice the essential support for trustees, trust advisers, private bankers, insurers, estate practitioners and all those who need to know the meanings and importance of words and expressions concerned with trusts, private foundations and asset planning vehicles.
Explanations are also given on a variety of other legal disciplines concerned with succession, land law, taxation and double tax treaties, international tax avoidance, corporate affairs, anti-money laundering, finance, conflict of laws, the recognition and enforcement of trusts, international litigation, banking and insurance and on the law of property generally – insofar as they are essential to advising on asset planning.
The Lexicon also contains a short glossary of relevant Islamic terms.
The Lexicon of Trust & Foundation Practice comprises nearly 400 pages of selected entries which enable the student and practitioner to understand important aspects of branches of the law which arise in negotiation with clients and other professionals.