Debrett's Peerage and Baronetage 149th ed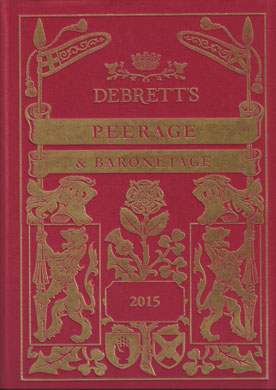 ISBN13: 9780992934828
Published: December 2014
Publisher: Debrett's Ltd
Country of Publication: UK
Format: Hardback
Price: Out of print

Debrett's Peerage & Baronetage, now in its 149th edition having originally been published in 1769, is the only up-to-date printed reference guide to the United Kingdom's titled families: the 817 hereditary peers, 758 life peers and peeresses, and 1,298 baronets, and their descendants who form the fascinating tapestry of the peerage.
In addition to comprehensive coverage of Britain's Peerage & Baronetage, it also contains information relating to:
The Royal Family
Coats of Arms
Principal British Commonwealth Orders
Courtesy titles
Forms of address
Extinct, dormant, abeyant and disclaimed titles.
NEW For the first time in almost 250 years, this edition includes a full name index of all living persons named in the peerage and baronetage (about 140,000 names), together with the names of fathers-in-law both living and deceased – a huge help for genealogists.
NEW To mark the centenary of the Great War, this edition includes a reprint of the Roll of Honour, over 3,000 names of those reported killed in action from families mentioned in the book.
NEW For the first time this new edition has been produced in a more substantial A4 format, which adds clarity and elegance.