Foreign Currency: Claims, Judgments and Damages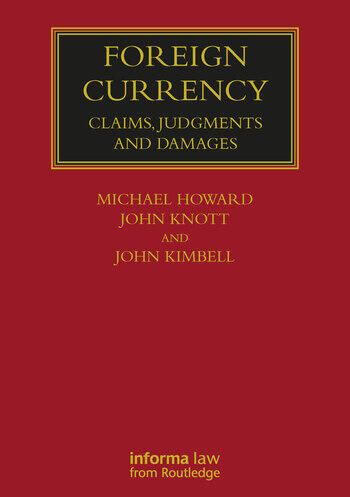 ISBN13: 9781032179469
Published: September 2021
Publisher: Informa Law from Routledge
Country of Publication: UK
Format: Paperback (Hardback in 2016)
Price: £230.00

Currency fluctuation, currency wars and even potential currency collapse (the Euro, the Bitcoin) are all risks that commercial parties must consider and guard against. This book gathers together in one volume all the information and advice practitioners are likely to need when advising on, advancing or defending claims involving a foreign currency element.
The determination of the proper currency (or currencies) of a claim often has a dramatic effect on the level of a court judgment or arbitration award that is ultimately obtained. It is, therefore, vital for practitioners to accurately assess claims which involve a foreign currency element. The authors guide the reader through the legal principles governing how foreign currency claims are treated in English law. The book covers both the treatment of foreign currency in substantive law as well as such procedural matters as how to claim interest correctly on a foreign currency claim and how to plead, prove or disprove the applicability of a particular currency.
This book is an invaluable and essential resource for all lawyers involved in international commerce, but will be of particular interest to those engaged in international finance, commodity transactions, international shipping and transport, and the insurance of assets and liabilities abroad.