Australian Constitutional Law: Concepts and Cases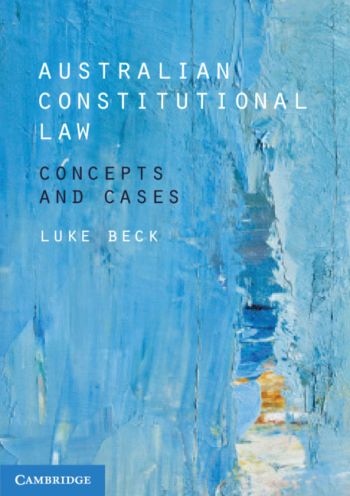 ISBN13: 9781108701037
To be Published: January 2020
Publisher: Cambridge University Press
Country of Publication: Australia
Format: Paperback
Price: £99.99

Australian Constitutional Law: Concepts and Cases is a highly accessible, clear and methodical overview of Australian constitutional law, integrating theory and doctrine. It is both comprehensive and concise. This book takes a conceptual rather than chronological approach to topics. With focussed rather than lengthy case extracts, the book explains what the law is and why various interpretations have been adopted. Clear explanations enable students to understand and engage with constitutional law, including its complexity and nuance.
The book's explicit linkages between topics and clear delineation between case extracts and commentary help students make sense of Australian constitutional law as a whole. Conceptual and discussion questions at the end of each chapter facilitate student thinking and discussion about how the law has evolved and how the law is applied.
Written by leading constitutional law scholar Luke Beck, Australian Constitutional Law: Concepts and Cases is invaluable for students engaging with Australian constitutional law.