The Institute of International Law's Resolution on State Succession and State Responsibility: Introduction, Text and Commentaries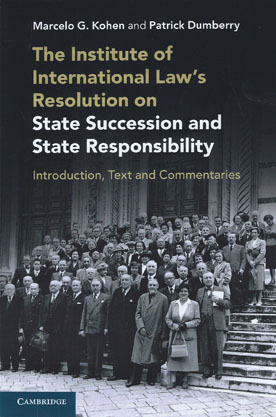 ISBN13: 9781108733892
Published: February 2019
Publisher: Cambridge University Press
Country of Publication: UK
Format: Paperback
Price: £24.99

Marcelo Kohen and Patrick Dumberry explore in an article-by-article commentary the Resolution adopted in 2015 by the Institute of International Law, on State succession in matters of State responsibility.
They analyse the content and scope of application of each provision based on a comprehensive survey of existing State practice and judicial decisions (both domestic and international), as well as taking into account the works of scholars and that of the ILC Special Rapporteur in his proposed Draft Articles on the same topic.
This book explains the rationale and the reasons behind why the Institute adopted specific solutions to address particular problems of succession to responsibility for each provision, including the need to achieve a fair outcome given the specific circumstances and relevant factors for each case.