Reinterpreting Criminal Complicity and Inchoate Participation Offences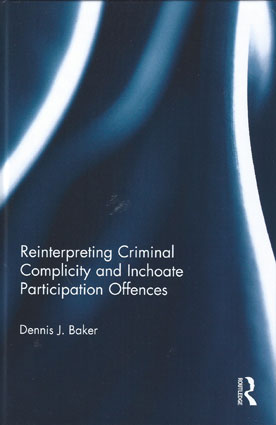 ISBN13: 9781138675568
Published: June 2016
Publisher: Routledge
Country of Publication: UK
Format: Hardback
Price: £125.00

Despatched in 2 to 4 days.
In Reinterpreting Criminal Complicity and Inchoate Participation Offences, Dennis J. Baker argues that the mental element in complicity is one of intention, that recklessness alone is not sufficient. This is demonstrated by showing that the ancient and modern authorities on complicity required intention.
The book argues the 'causal participation' element in complicity means that the conduct element can only be established when there is intentional encouragement on the part of the accessory. As the Accessories and Abettors Act 1861, like most of the statutory provisions found in the United States, deems that both perpetrator and accessory are perpetrators for the purpose of punishment and crime labelling, limiting the mental element in complicity to intentional participation is, the author argues, the only way to reconcile these provisions with the requirements of proportionate punishment and fair labelling.
As some forms of reckless encouragement and assistance will not be criminalised if the mental element in complicity is intention only, the author suggests that the solution is to amend section 45 of the Serious Crime Act 2007 to criminalise reckless participation. In addition, the author argues that standard complicity and joint enterprise complicity have the same mental and conduct elements and thus joint enterprise complicity is not a distinct form of complicity.