International Law and Post-Conflict Reconstruction Policy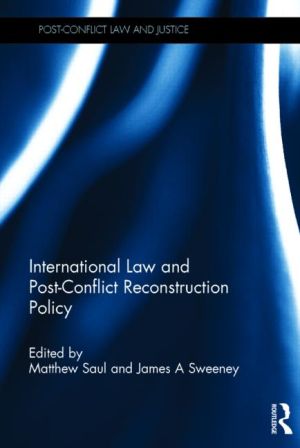 ISBN13: 9781138780118
Published: May 2015
Publisher: Routledge
Country of Publication: UK
Format: Hardback
Price: £130.00

Despatched in 4 to 6 days.
The trend for international engagement in post-conflict reconstruction has produced a host of best-practice postulates on topics such as local involvement in decision-making, accountability for past atrocities, sensitivity to context, and the construction of democratic institutions of governance. Extant international law has potential relevance for many of these themes yet the question of whether and how the implementation of best-practice policy recommendations might be affected by international law remains under-examined.
This book offers a fuller understanding of the role of international law in the practice of post-conflict reconstruction. it identifies and explores how international legal issues that arise in the post-conflict period relate to a number of strands of the policy debate, including government creation, constitution-making, gender policy, provision of security, justice for past atrocities, rule of law development, economic recovery, returning displaced persons, and responsibilities of international actors. Each chapter not only locates relevant international legal doctrine in the policy debate, but also considers how this law has operated in practice, asking questions such as, has international law provided a basis for actors with decision authority to be held accountable? Has international law been a normative factor, motivating best or inappropriate practice? Has international law simply been overlooked, if so, why?
Taken together, the chapters of the book help to reveal the extent to which international law figures in the policy of internationally enabled post-conflict reconstruction across a range of sectors, whilst also highlighting the scope for international law to be harnessed in a more effective manner from the perspective of the transition to peace and stability. The book lays out a basis for future policy making on post-conflict reconstruction, one that is informed about the international legal parameters, and more aware of how international law can be utilized to promote key objectives.