Law and History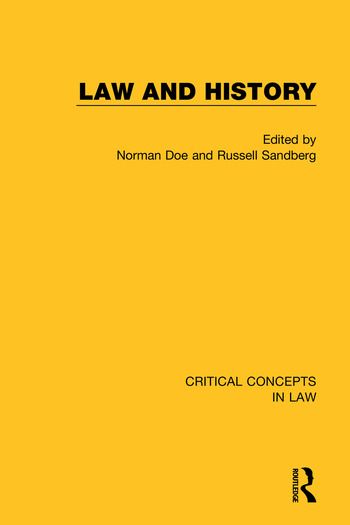 ISBN13: 9781138961685
Published: November 2016
Publisher: Routledge
Country of Publication: UK
Format: Hardback, 4 Volumes
Price: £300.00

Despatched in 4 to 6 days.
The historical study of law is among the most important domains of global legal scholarship. Indeed, many of the most distinguished academic works on law are historical. And while much scholarly output has focused on 'textual' legal history—exploring how legal doctrines, ideas, concepts, principles, and institutions have developed over time—in recent years there has also been a sharpened focus on 'contextual' legal history, exploring the interaction and interplay between legal and socio-political change.
Now, to help researchers and students navigate and make better sense of an overabundance of scholarship, Routledge announces a new collection in its Critical Concepts in Law series. Edited by two leading academics, Law and History provides an authoritative 'mini library' which explores the development of legal history as an area of study by bringing together major works on the 'textual' legal history of English law alongside cutting-edge 'contextual' legal history.
Volume I, entitled 'Historiography', explores the relationship between law and history and the development of legal history. The second and third volumes ('Public Law'and 'Land Law' ) explicate law's historical development, while the collection's final volume, 'Law of Obligations', underscores the interaction between legal and social and political change.
With a full index, and thoughtful introductions, newly written by the learned editors, Law and History is sure to be welcomed as a vital and enduring reference and pedagogical resource.