Statutory Adjudication: A Practical Guide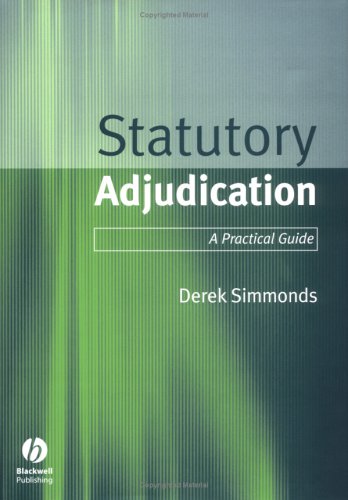 ISBN13: 9781405110853
ISBN: 1405110856
Published: June 2003
Publisher: Wiley-Blackwell
Country of Publication: UK
Format: Hardback
Price: £80.50

Despatched in 4 to 6 days.
Existing books on construction adjudication have either been written as an introduction to the subject when the Housing Grants, Construction and Regeneration Act was first introduced in 1996, or they are aimed at professionals representing parties or at adjudicators themselves.
In contrast, this book has been written for the parties to adjudication, particularly those new to the process. It takes a straightforward, practical approach to the subject, dealing with the process step-by-step.
The first part takes a party who is referring a dispute through the stages of the adjudication process, including the presentation of a referral submission, to the enforcement of an award.
Part 2 examines the position of a party faced with adjudication, highlighting the various actions necessary to protect its interest, and explains how a decision can be challenged. Part 3 looks at matters of common interest.
Statutory payment provisions and the Scheme for Construction Contracts are dealt with in Part 4, and Part 5 compares the most frequently used adjudication provisions and procedures. Appendices include an alphabetical list of 139 adjudication cases which are also categorised to show the aspect or aspects with which they are principally concerned.