Words and Phrases Legally Defined 4th ed with 2017 Supplement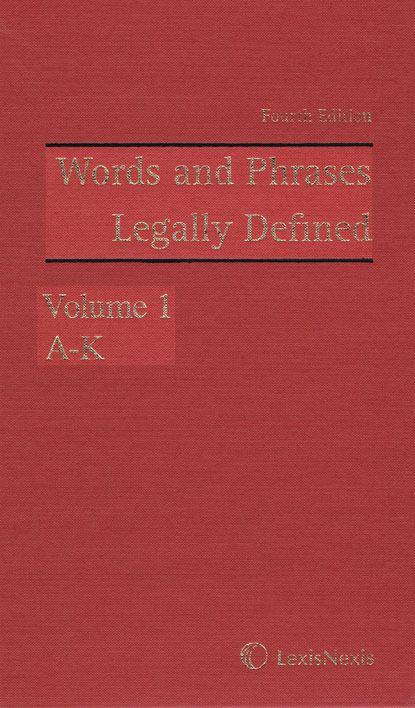 ISBN13: 9781405725200
Published: November 2017
Publisher: LexisNexis Butterworths
Country of Publication: UK
Format: Hardback, 2 Volumes & Supplement
Price: Out of print

Words and Phrases Legally Defined enables the practitioner to have at all times the precise meaning of a particular word or phrase. Definitions are taken from the Acts of Parliament, Halsbury's Laws of England, leading textbooks and verbatim judgments from all over the Commonwealth.
Annual cumulative supplements, charged separately, ensure that the work is always up-to-date and include not only full coverage of English and Scottish cases and statutes but also extracts from Australian, Canadian and New Zealand cases.
This new edition of Words and Phrases Legally Defined is published as a two-volume set.
The 2017 Supplement was published in November 2017
The 2016 Supplement was published in November 2016
The 2015 Supplement was published in December 2015
The 2014 Supplement was published in November 2014
The 2013 Supplement was published in November 2013
The 2012 Supplement was published in November 2012
The 2011 Supplement was published in November 2011
The 2010 Supplement was published in November 2010
The Main Work was published in November 2007