Macdonald's Immigration Law and Practice 8th ed with 1st Suppements to both Volumes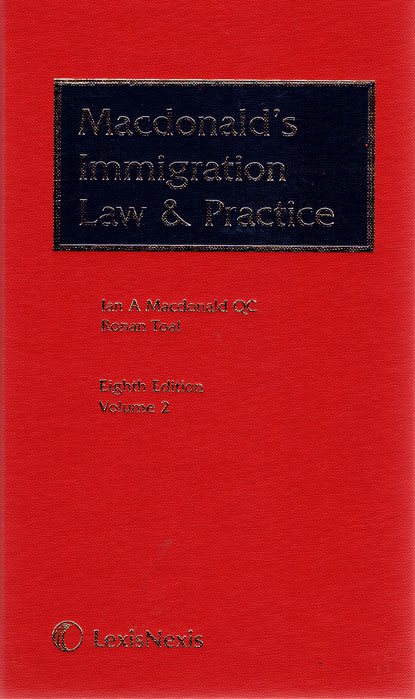 ISBN13: 9781405754750
Published: March 2012
Publisher: LexisNexis Butterworths
Country of Publication: UK
Format: Hardback, 2 Volumes & 2 Supplements
Price: Out of print

Buy Supplement 1 to Volume 1 (2012)
Buy Supplement 1 to Volume 2 (2011)
Since the publication of the first edition in 1983 Macdonald's Immigration Law & Practice has established itself as the standard textbook in the field and is recognised by the legal profession as the most authoritative text on immigration law.
Written with precision by leading immigration experts the work has been updated to offer all of the latest legislation, cases, political developments and commentary and guidance on every significant aspect of the law and practice of immigration.
The 8th edition, now in two volumes, has been fully revised and contains all the latest SIs, covers all recent case law, including decisions from Strasbourg, the House of Lords and the Court of Appeal and the latest immigration appeals Procedure Rules, Practice Direction and CPR.
The 1st Supplement to Volume 1 was published in March 2012
The 1st Supplement to Volume 2 was published in December 2011
The Main Work was published in October 2010