Jackson's Matrimonial Finance 9th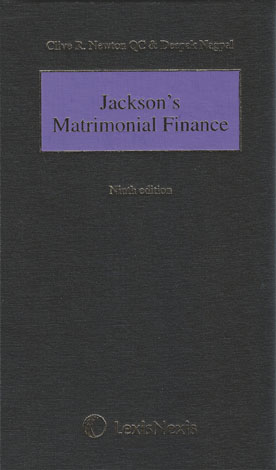 ISBN13: 9781405764124
Published: January 2012
Publisher: LexisNexis Butterworths
Country of Publication: UK
Format: Hardback
Price: Out of print

Jackson's Matrimonial Finance and Taxation is an authoritative specialist text covering all aspects of financial problems arising from the breakdown of a marriage.
The publication of this authorative title has been deferred to January 2012 to take in to account the important Supreme Court Decision of Kernott v Jones handed down on 9th November 2011. Jackson's matrimonial finance will be the first title on the market to deal with this highly relevant case on constructive trusts
Providing family law practitioners with an in-depth treatment of the subject, this unique book explains the principles applied by the courts in considering matters of finance, examines those agreements reached by parties out of court, and deals in detail with cases affecting all sections of society.
The guidance in this book is comprehensive, providing you with coverage of all the relevant areas including:-
A new chapter on the impact of the new Family Proceedings Rules covering: obtaining disclosure from third parties both onshore & offshore such as inspection appointments and letters of request; improperly obtained material referring to cases such as Hildebrand; White v Withers and Imerman.
Other new material includes: the Supreme Court decisions in Radmacher v Granatino (agreements), Agbaje v Agbaje (Part III applications) as well as A v A orders in Children cases and the new Maintenance Regulations which are expected to come into force in June 2011.