Bennion on Statutory Interpretation 6th ed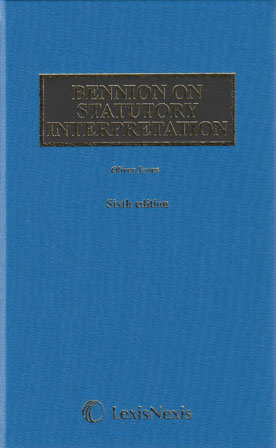 ISBN13: 9781405765701
Published: December 2013
Publisher: LexisNexis Butterworths
Country of Publication: UK
Format: Hardback
Price: Out of print

Bennion on Statutory Interpretation is the leading work on the interpretation of legislation and essential reading for all those who practise law, whether drafting legislation, administering it, advising on it or arguing it in court.
The Sixth edition has been extensively revised and updated to ensure that it remains the seminal work on statutory interpretation for the modern-day practitioner.
The work explains clearly and concisely how to extract the relevant interpretative factors in deciding the legal meaning and effect of all types of legislation. The provision of checklists helps to ensure that no argument is overlooked. Critical issues such as how to assess legislative intent are examined. A framework is provided which enables the reader to interpret legislation accurately and confidently.
What's new for this edition?
References to wide range of judicial approval of commentary in BSI from across the common law world
Extensive citation of developments in the Commonwealth, including as to doctrine of judicial notice and the Barras principle
Revision of commentary regarding mandatory / directory distinction, rule in Pepper v Hart and principle of legality
Consideration of judicial correction of drafting errors under the Inco Europe principle
Re-examination of law of repeals and retrospectivity, including implied repeals, accrued rights and objectionable retrospectivity
Analysis of academic articles, including on proposed revival of equitable interpretation of statutes
Reappraisal of intersection of international and domestic law
Concentration of commentary on European law
Consideration of pronouncements of Supreme Court of United Kingdom on general themes in statutory interpretation, including Cusack v London Borough of Harrow [2013] UKSC 40
The Sixth edition will be kept up to date by supplements as and when required.