The Caribbean Civil Court Practice 2nd ed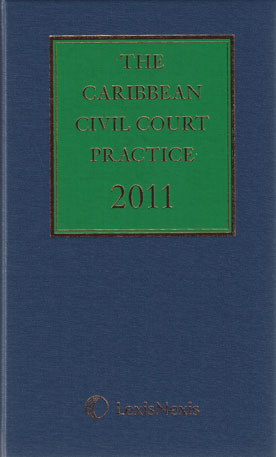 ISBN13: 9781405773676
Published: August 2011
Publisher: LexisNexis Butterworths
Country of Publication: UK
Format: Hardback & CD-ROM
Price: Out of print

The Caribbean Civil Court Practice is the essential guide to the Civil Procedure Rules (CPR) as they apply in the Caribbean. The Practice contains authoritative, expert but nevertheless user friendly commentary on:-
Barbados, ECSC, Jamaica and Trinidad and Tobago in particular and
The Caribbean Court of Justice and
Appeals to the Privy Council
All the key rules, forms and practice directions are together in one accessible volume with an accompanying CD-ROM with hypertext links to provide fast navigation between the rule and the relevant note.
This essential text contains:-
The full text of the CPR in Barbados, Eastern Caribbean Supreme Court (including the extensive revisions and 12 new Practice Directions coming into force 1 October 2011) and Trinidad and Tobago (as amended May 2011).
The BVI Commercial Court rules
All relevant forms and practice directions updated since the first edition
Over 300 new cases from all jurisdictions
A new comprehensive, detailed and in depth commentary on Judicial Review procedure in the Caribbean by the Honourable Justice Adrian Saunders
Coverage of relevant English cases where of assistance
Detailed coverage of the procedure for appeals to the Privy Council with all practice directions and forms
The editorial board and authors are drawn from key members of the judiciary and practitioners practising in the Caribbean, ensuring that the commentary on the Rules and the material selected for inclusion is authoritative, practical and meets practitioners' needs.
The Editorial Board includes:-
CCJ: The Right Honourable Sir Dennis Byron, President, Caribbean Court of Justice and The Honourable Justice Adrian Saunders
Barbados: The Honourable Sir David Simmons KA, BCH, former Chief Justice, and Sir Henry de B. Forde KA, QC
East Caribbean Supreme Court: The Honourable Chief Justice Hugh Rawlins (Ag.) and Nicole Sylvester LLB,LLM (Lond) member of the Bars of Anguilla, Commonwealth of Dominica, St Kitts and Nevis, St Lucia and St Vincent and The Grenadines
Jamaica: The Honourable Mrs Justice Zaila McCalla OJ, Chief Justice and The Honourable Justice Bryan Sykes
Trinidad and Tobago: The Honourable Mr Justice Ivor Archie, Chief Justice, The Honourable Justice Sebastian Ventour and Honourable Senator Anand Ramlogan, Attorney General
Privy Council: Louise di Mambro: Registrar to the Privy Council and Registrar to the UK Supreme Court; Joint General Editor of the Civil Court Practice in England and John Almeida, Head of International Section, Charles Russell LLP, London
The Editorial Board is assisted by:-
Editor in Chief: David di Mambro, Senior Contributing Editor to The Civil Court Practice (The Green Book) and a contributing editor to Atkins Court Forms (CPR, Appeals and Service). He is a barrister member of the Civil Procedure Rule Committee for England and Wales and practises at Radcliffe Chambers, Lincoln's Inn. A Blackstone Scholar, Fellow of the Society For Advanced Legal Studies and a Chartered Arbitrator.
Consulting Editor: The Honourable Justice Adrian Saunders, Justice of the Caribbean Court of Justice and former Chief Justice (Ag) of The Eastern Caribbean Supreme Court