Williams on Wills 10th ed with 2nd Supplement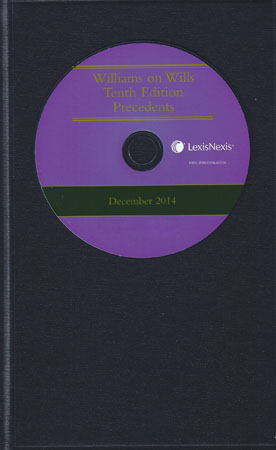 ISBN13: 9781405790512
Published: November 2018
Publisher: LexisNexis Butterworths
Country of Publication: UK
Format: Hardback, 2 Volumes & Supplement & CD-ROM
Price: Out of print

The 2nd Supplement was published in November 2018
The 1st Supplement was published in November 2016
The Main Work was published in December 2014
Williams on Wills
has long been recognised as the leading text in the area of Wills. Considered to be the definitive practitioner textbook, the new edition has been fully revised and updated for 2014.
As always, the title will consist of two volumes, the second of which comprises an extensive collection of gold standard precedents both for complete wills and clauses used in Wills, also included on a CD (Windows compatible) in Word format ready to edit and use in practice.
The book provides a selection of relevant statutes and includes updated content on areas such as statutes concerning inheritance, gifts by will, the Human Fertilisation and Embryology act 2008, the Perpetuities and Accumulations Act 2009, the Equality Act 2011, the Estates of Deceased Persons (Forfeiture Rule and Law of Succession) Act 2011, the Charities Act 2011, EU Regulation 650/2012, the Trusts (Capital and Income) Act 2013, and the Marriage (Same Sex Couples) Act 2013. Content on inheritance tax has also been extensively revised.
This new edition of Williams on Wills is fully updated to cover all changes in legislation since the previous edition, and is a must for all practitioners working in this area of the law.