Elliott & Quinn: Tort Law 6th ed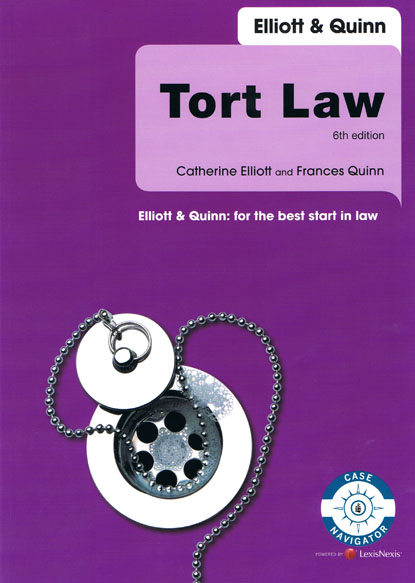 ISBN13: 9781405846721
Published: July 2007
Publisher: Pearson Education Ltd
Country of Publication: UK
Format: Paperback
Price: Out of print

Elliott and Quinn's Tort Law clarifies the essential concepts behind the law, making it easier for you to understand and apply the legal rules. The book sets each tort in its social context, so that you can easily understand when and why claims might be brought, and then offers a clear, systematic and detailed explanation of the rules relating to each tort.
Each chapter also includes discussion of problems with the current law, helping you to develop a critical and analytical approach. Through reference to topical cases and issues, the authors aim to show that, although not an easy subject, tort law is both interesting and relevant to today's society.
Now in its sixth edition, the book explores the impact of recent developments, such as:-
The Compensation Act 2006;
The increasing influence of the Human Rights Act on tort cases;
The progression of the Reynolds defence in defamation;
Movements towards a fully-fledged privacy law.