Jeremy Hutchinson's Case Histories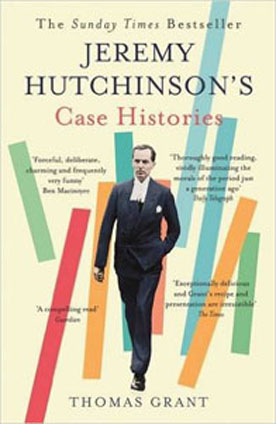 ISBN13: 9781444799750
Published: January 2016
Publisher: John Murray
Country of Publication: UK
Format: Paperback
Price: £10.99

Jeremy Hutchinson lived to see his biography become a bestseller. He died, aged 102, in November 2017.
Born in 1915 into the fringes of the Bloomsbury Group, Jeremy Hutchinson went on to become the greatest criminal barrister of the 1960s, '70s and '80s. The cases of that period changed society for ever and Hutchinson's role in them was second to none.
In Case Histories, not a Biography in the traditional sense, Thomas Grant examines Jeremy Hutchinson's most remarkable trials, in the 1960's, 70's and 80's, each one providing a fascinating look into Britain's post-war social, political and cultural history.
Accessibly and entertainingly written, Case Histories provides a definitive account of Jeremy Hutchinson's life and work. From the sex and spying scandals which contributed to Harold Macmillan's resignation in 1963 and the subsequent fall of the Conservative government, to the fight against literary censorship through his defence of Lady Chatterley's Lover and Fanny Hill, Hutchinson was involved in many of the great trials of the period.
Throughout a long career, Jeremy Hutchinson's brilliant and stylish advocacy achieved success in cases that looked unwinnable Helena Kennedy
Jeremy was not just a good lawyer; he was fearless in standing up to judges. He was the most formidable advocate of the 1960s and '70s and he had a marvellous sense of mischief Geoffrey Robertson
A real contribution to the history of the twentieth century. It is also a first-rate lesson in simple humanity....The pungency, intelligence and humour of Grant and his subject make this the most enlivening of case-books....Hutchinson is abundant in the qualities of empathy, consideration and humour. He manages to be both charming and shatteringly truthful The Guardian