The Mindful Legal Writer: Mastering Predictive Writing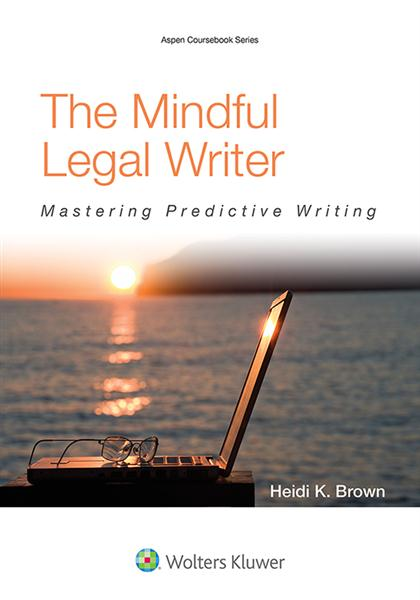 ISBN13: 9781454836186
Published: January 2015
Publisher: Aspen Publishers
Country of Publication: USA
Format: Paperback
Price: £55.00

Usually despatched in 1 to 3 weeks.
The Mindful Legal Writer: Mastering Predictive Writing by Professor Heidi K. Brown, who has 15 years of experience in the law firm world and 7 years of teaching legal writing, focuses on predictive legal analysis.
It offers law students and junior lawyers a step-by-step approach to learning the "scientific" framework of written predictive legal analysis, while at the same time encouraging them to consider the "artistic" nature of communicating through the written word.
This book also proposes that students consider the basics of the concept of "mindfulness" in the legal writing context—a recent movement in legal education to encourage law students to "be fully conscious and aware of one's actions and surroundings," and "pay attention, on purpose, in the present moment" (according to mindfulness advocate, Jon Kabat-Zinn) in order to be a better legal counselor to clients.
Using the mindfulness concept, the author helps students understand how one's writing fits into the big picture of a legal case and how to:-
approach each new legal writing assignment
read the law,
process and synthesize complex legal rules
express one's thoughts clearly through the written word
accept feedback and critique during the editing process
The Mindful Legal Writer gives new legal writers context about how legal writing contributes to the legal system as a whole, and then walks them through the various stages of a legal writing project. It offers chapters on topics not often found in traditional legal writing textbooks, such as:-
pondering professional judgment
"reading comprehension" for law students
locking in logic and abolishing assumptions in legal analysis
preparing intellectually, logistically, and emotionally for feedback on, or constructive critique of, legal writing
a survey of judicial opinions demonstrating how good and bad legal writing directly affects the legal process
tips for conquering anxiety about classroom case discussion via the Socratic method
tips for converting a law school writing assignment into a job search writing sample