Cook on Costs 2018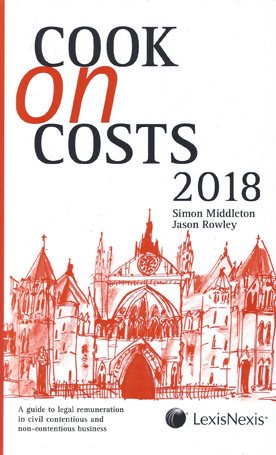 ISBN13: 9781474304238
Published: November 2017
Publisher: LexisNexis Butterworths
Country of Publication: UK
Format: Paperback
Price: Out of print

The well-established and practical title returns fully updated on legislative changes concerning every aspect of civil costs, providing concise and comprehensive information on the principles and practice of legal costs as well as straight forward explanations of the remuneration of solicitors and barristers.
Cook on Costs 2018 is up to date with all the latest on costs management, including the Court of Appeal decision in Harrison.
New to this edition are the continued expansion of fixed costs and the mandatory new electronic bill of costs as from April 2018.
Highlights in the new edition:-
Revision of the provisions in respect of costs limits in Aarhus Convention claims at CPR 45 Section VII
The formal removal of claims that start in the low value personal injury protocols, but on issue are allocated to the multi-track, from the fixed fee regime at CPR 45 Section IIIA
Guidance on non-party costs orders in the QOCS regime under CPR 44.16(3)
Court of Appeal clarification on the meaning of commencement funding arrangements under CPR 48.2 (1)